Do you have an 'art scar' holding you back?
When we're kids, a lack of art teaching + having our art compared negatively to others, can lead us into a creative block known as an 'art scar' that can last for YEARS if not life. Here let's explore why & how to get over it & get making art...
"Art's not for me"

Do you wish you could paint & draw but a part of you cringes at the thought of picking up a pencil or brush? Your pulse quickens? A queasiness sets in? And you think: "I guess it's not for me". Or do you know someone who feels this way?


You, or they, may be experiencing a shame trigger in relation to making art. 
Why do so many people feel this way about something that ought to be fun?
Shame & vulnerability researcher Brene Brown, conducted thousands of interviews where she heard the life stories of diverse men and women in the US. She states:
85% of the men and women I've interviewed remember something so shaming that happened in school that forever changed the way they thought of themselves as learners. For 50% of those people the shaming experience was around creativity. They have art scars. And by art scars, they can point to a specific moment in time where they were laughed at or put down. (from a 2017 a talk called 'The Power of Vulnerability)
This is a massive number of people with art scars. MASSIVE. So if you're one of them, please know you are FAR from alone in being given this creative block. 
What did Brene discover was at the root of this? Comparison.
Picture the scene. You're 9 years old. You're in an art lesson at school. You've always enjoyed drawing and painting. This lesson you're asked to draw a cat with felt-tip pens. You have a go. It's fun to do. It looks ok. But for the first time you look around and really notice that Sally's cat looks more like a cat than yours does. So does Will's. It doesn't feel good. 
Then your teacher says something to you like 'ahh don't worry, we can't all be great at art. You're good at maths'. OR worse, they say something critical of your cat picture.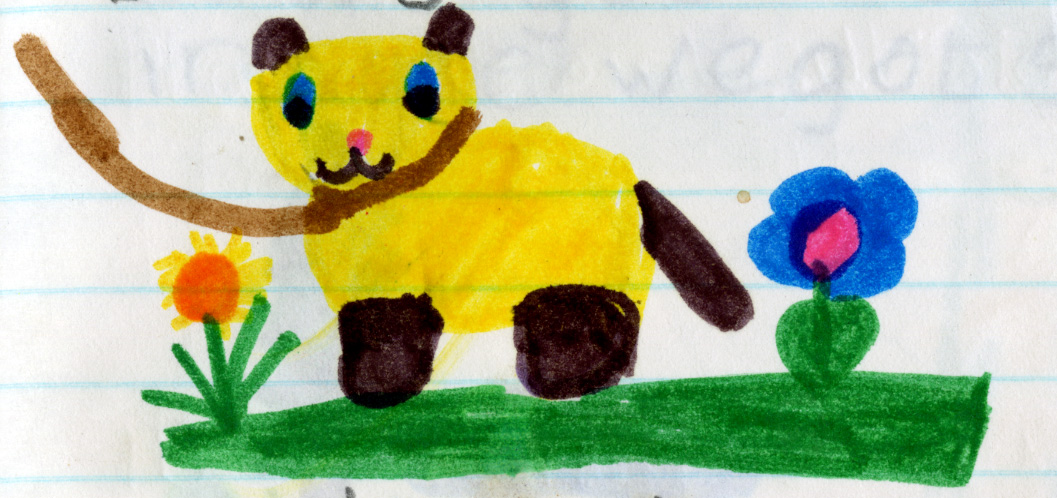 Suddenly you don't want to try at art any more. From this point on you'll hardly do it for fun at all. So you won't practise much any more. So you won't get better. So you won't feel like doing it. And so on. 
This is the all too familiar pattern from so many people's childhoods. By age 9 we start to make comparisons with other children's art. And so do our teachers. And it can kill off desire and confidence to make art. 
In fact, here's the most recent real-life story I've been told about this – told to me by a dad of one of my kids' friends when I mentioned I was writing this blog post:
'I was 11 and I'd got quite good at pencil sketching and really enjoyed it. Then one day the art teacher in our lesson said we were going to do some painting that lesson and put a set of paints on each table. I'd not done any painting for ages and I was really unsure of what I was doing. There was no instruction. When the teacher walked around looking at what we'd done, he said to me in front of everyone 'I've never seen someone so good at sketching be so terrible at painting.'  He might have been trying to pay me a compliment about my sketching but I never wanted to paint again and I even went off sketching.'
Lack of teaching & a fixed mindset
What I find infuriating about this kind of thing is that the art instruction offered to children at this age is often pretty non existent. Often the 'draw a cat' or 'do some painting' directive might or might not be accompanied with a picture to copy. But there's hardly ever any actual instruction. No step-by-step. No slow demo, no clear explanation of the process.
In no other subject would this be considered a 'lesson'. In fact this attitude when it comes to art is part of  what psychologist Carol Dweck in her book Mindset: The New Psychology of Success calls a 'fixed mindset' approach. People with a 'fixed mindset' don't understand that skills can be grown and developed in every area of life and act as if they were either born with skills and abilities in certain areas, or not. 
So with art in schools, only those who can already draw and paint are encouraged to pursue it. As if there are those who can, and those who can't. Allocated at birth. Fixed.
My experience
Personally, I didn't experience an art scar when I was a child. If I did I'm sure I wouldn't be doing what I do and writing this blog. Instead, I was one of the children who 'could'. 
But my art abilities aged 9 weren't a case of innate talent. They were down to lots of practice. I had enjoyed painting and drawing as a young child (yes, I expect that initial interest is a spark we're born with) and for a variety of reasons, including encouragement from my parents,  it became my thing to do at home. I spent hours tucked away in my room on my own doing it. I put many, many hours in to become one who 'could'.  And I received a bit of instruction from my dad too. 
Like this page from my holiday diary aged 6 – I think you can tell he'd just given me a lesson on perspective (like, done it for me!). The point is I can actually still remember that lesson, that's how much I appreciated it: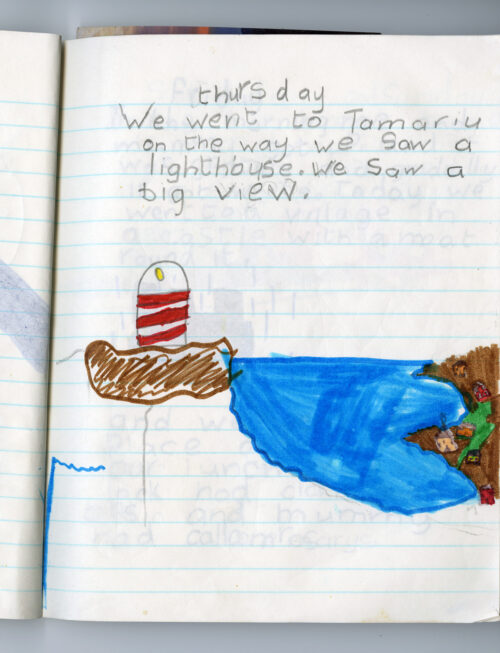 I did get a P.E scar around sport and physicality instead, and was one of the kids who 'couldn't' do that. A stand out moment was being called a 'silly cow' for having a 'lazy leg' when swimming aged 10. I still love to splash about, but how confident do you think I feel about swimming even today?  We all get something. 
Interesting side note: my P.E scar actually ended up helping my art skills. I got a leg condition aged 13 related to growing too fast that meant I was able to get signed off from P.E for almost a whole year. I was thrilled! 
After being forced to write out the rules of various sports multiple times during the P.E lessons I was missing, my parents complained and I was allowed to sit in on extra art classes with the 17 year old kids. That worked out great as I could get inspired by their artwork without feeling bad about comparing mine as 'worse' – I was 4 years younger after all. 
Taking a Growth mindset & letting go of comparison
If we instead adopt what Dweck calls a Growth mindset, acknowledging our ability to develop and grow our skills over time, we see that kids – and even those adults embarking on learning art – need to have their enthusiasm nurtured and to be given instruction to cultivate their skills to the standard they want to.
And beyond that they need to be helped to avoid making sideways comparisons with others, focus on the enjoyment we get from making art and compare themselves only to how they're progressing compared to where they started. 
Why does it matter? So we can live wholeheartedly.
Through her interviews, Brene Brown identified people she refers to as 'wholehearted', and identified things they do, and don't do which she details in the book 'The Gifts Of Imperfection.' 
She defines Wholehearted living, as 
engaging in our lives from a place of worthiness. It means cultivating the courage, compassion & connection to wake up in the morning and think, No matter what gets done and how much is left undone, I am enough. It's going to bed at night thinking, Yes I'm imperfect and vulnerable and sometimes afraid, but that doesn't change the truth that I am also brave and worthy of love and belonging. 
Or put more simply, people living and loving with their whole hearts. People who, importantly,
loved themselves
. 
And she explains that wholehearted living is not a one-time choice, but the journey of our lifetimes. 
Using their creativity emerged as an important thing that wholehearted people do. It helped them create meaning in their lives: 
If we want to create meaning, we need to make art. Cook, write, draw, doodle, paint, scrapbook, take pictures, collage, knit, rebuild an engine, sculpt, dance, decorate act, sing. It doesn't matter. As long as we're creating, we're cultivating meaning. 
And there are real consequences to not using our creativity:
Creativity is a function of being human. There are simply people who use their creativity and those who do not. And here is the really hard news: Unused creativity is not benign. It does not dissipate. It metastasises. And unused creativity turns into: rage, grief, shame, judgement…Inside us all is creativity. And when we don't use it, I'm telling you, it does not go away.'
We can't afford to let our art scars (or any other scars for that matter) hold us back.
Know that YOU ARE CREATIVE. And with proper instruction, a bit of time, and with an attitude of self-encouragement,  you CAN begin creating artwork you're proud of. FOR YOU. We've collated hundreds of stories from our members who've done just that. You can read a few here. 
Let's share
I'd love for us to de-shame any art-scar type experiences here in the comments.  Did you experience one but overcame its hold on you and proved them wrong? Or are you feeling like now's the time to grow your skills and put any art scars behind you? I'd love to know so I can cheer you on.  I read all the comments and reply to as many as I can.
And, if this doesn't apply to you personally, can you think of a friend or loved one who it might? Someone who says they're 'just not artistic' and yet they've never actually had any instruction or support to grow their artistic skills?  If so, please do them a favour and send them a link to this post. It might be just what they need to read.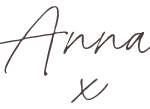 Subscribe to blog updates
The information you provide here will be used only to deliver the email course, along with other relevant updates from me. You can unsubscribe anytime. Click here for our privacy policy.