PROOF that it's never too late to start painting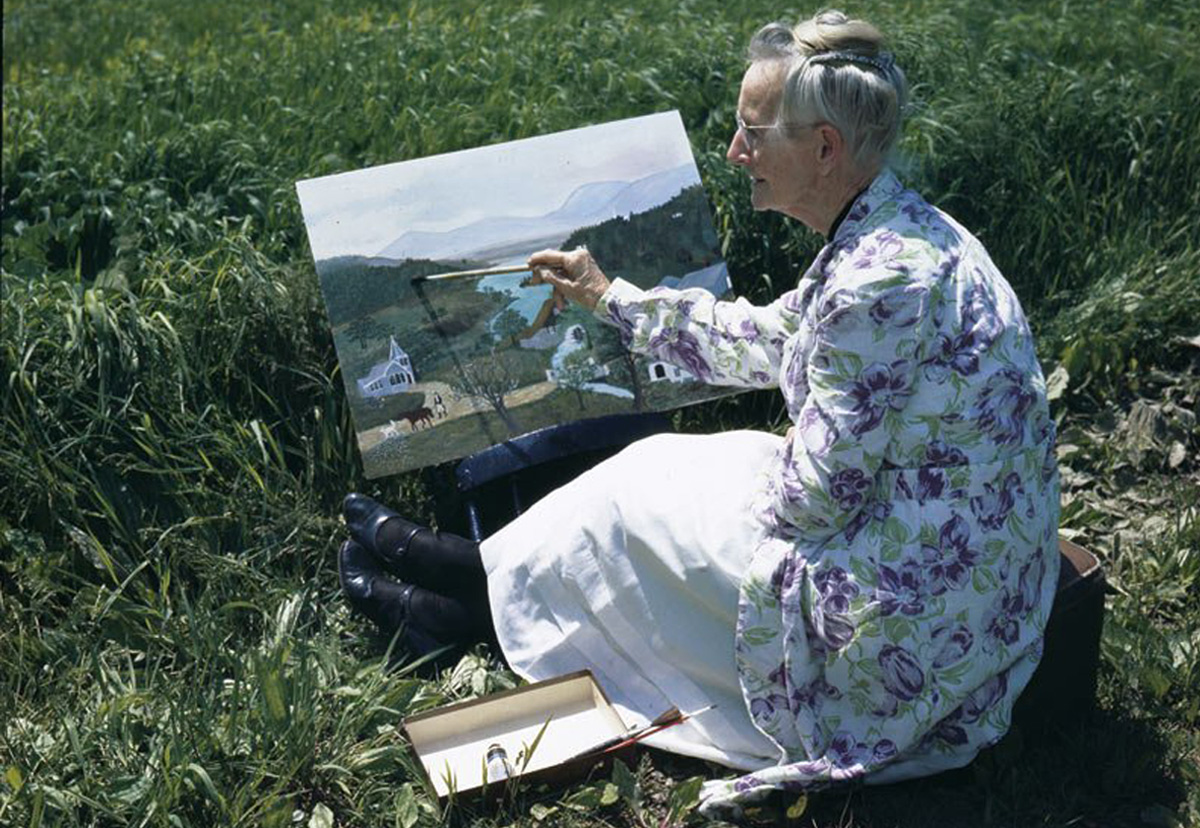 Do you regret not starting painting sooner?  Perhaps you're already painting, or maybe something's blocking you from beginning. Either way, your inner voice might be whispering to you that it's too late. Too late to really develop a skill, and certainly too late to have any real success as an artist. 
But like so many thoughts our minds generate: it's not actually true!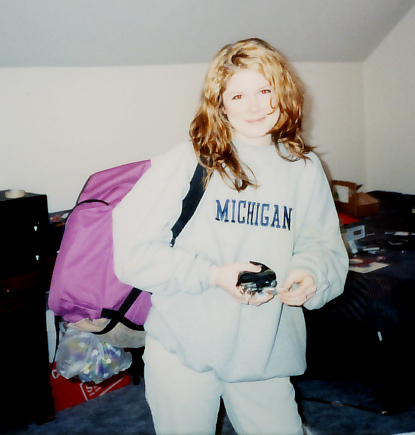 And I've got proof.

I had a chance encounter exactly 20 years ago, back in my student days when I spent the summer in Hudson, South Michigan. I was 19, and staying with my American boyfriend at the time, and during that stay, I got to know his landlady, Barb (who I went on to become great friends with).
It came up in conversation with Barb that she'd like to have a mural painted on the wall beside the staircase in her farmhouse. Bear in mind, I was a history student at uni, and thought I'd left serious painting behind when I left school. But Barb's enthusiastic, can-do attitude was infectious, and I knew I had the skills for the job. So I thought I'd throw it out there and oh-so-subtly hinted: 
'Oh, I can paint'
"Then you have yourself a commission" Barb replied – grabbing her car keys for us to go straight to the art store for supplies!  
I remember feeling so excited to get to paint, and to get to spend more time with Barb.
Then Barb added "And I'd like the painting to be in the style of Grandma Moses,"
"Who's Grandma Moses?" I asked, unaware that I was about to discover one of the most inspirational artists ever.

Grandma Moses is PROOF that it's never too late.
If you live in the US, you might well have heard of Grandma Moses, but you may not be fully aware of her story.  And if you live in the rest of the world, you might not have heard of her at all. Either way, her story is well worth contemplating:
As a child, long before she ever became a grandma, Anna Mary Robertson loved to paint. But in 1872, at the age of 12, Anna went to live and work on a neighbouring farm. For 15 years she worked there until she met and married Thomas Moses. The next era in her life was very busy bringing up her family and making ends meet.
Through this time, Anna was creative in her home, and enjoyed embroidery and quilting. But by the age of 76, it became painful for her to hold a needle because she developed arthritis. Her sister suggested that a paintbrush would be easier for her, so that's what she did.
She started painting at age 76.
What if Grandma Moses had told herself she was 'too old' to start, that it was 'too late' or that she was 'past it'?

1. She would never have produced the 1,500+ paintings she created in three decades. 
Yes, she was a highly productive painter and painted one and a half thousand canvasses in her painting career, in her characteristic 'naive' style.  That's 50 paintings a year, or about one a week.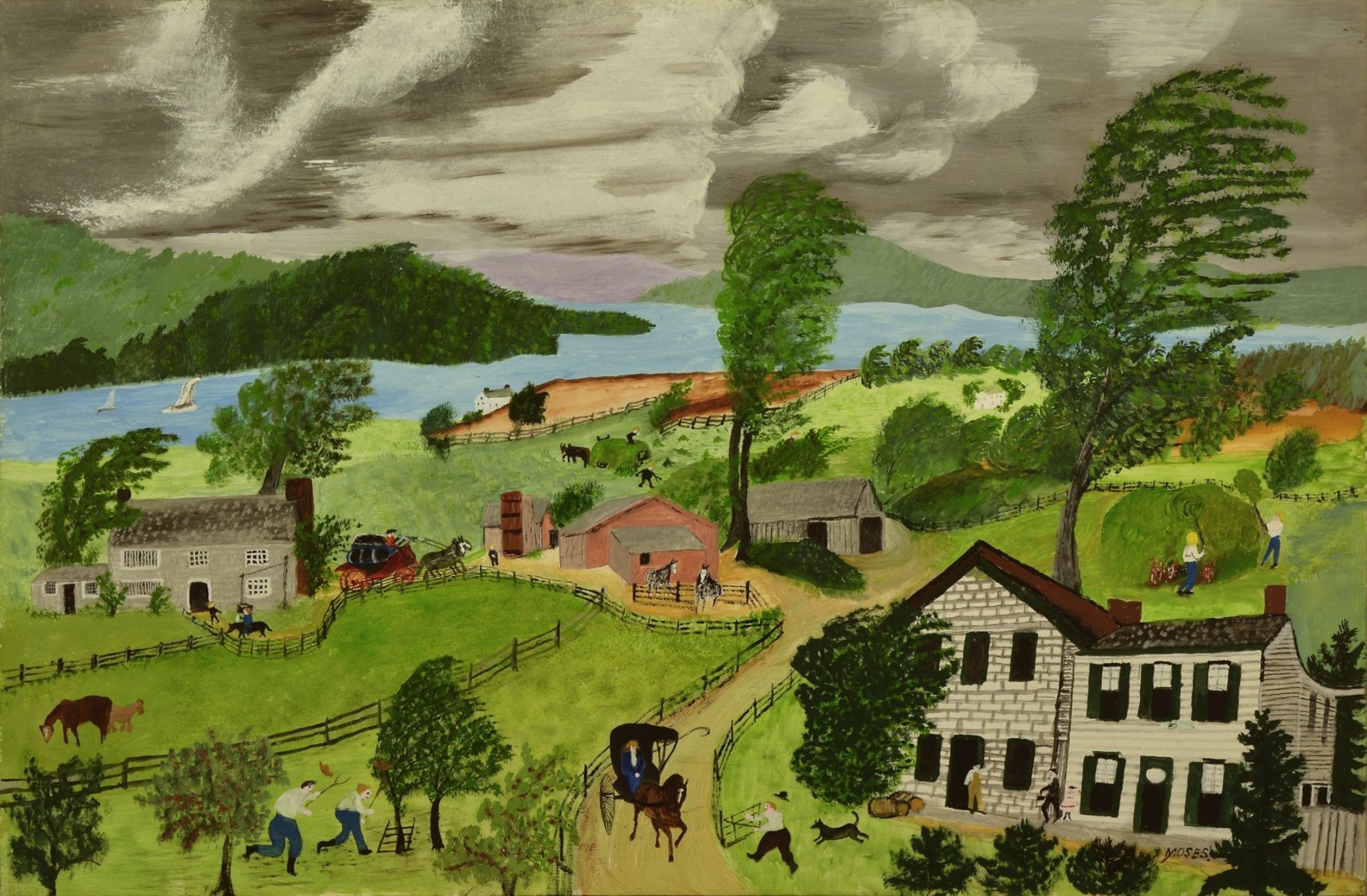 2. She'd never have had her work spotted by an art collector
Whilst her paintings were for sale at a local drug store, at a price of $3 to $5 each (1930's prices), an art collector spotted them and bought the entire stock.

3. She wouldn't have had her work displayed in New York's Museum of Modern Art and had world-record breaking solo exhibitions
In 1940, just 4 years after she started painting, she had three solo exhibitions in as many months. Her paintings were exhibited throughout the United States and Europe for the next 20 years, with her exhibitions breaking attendance records around the world.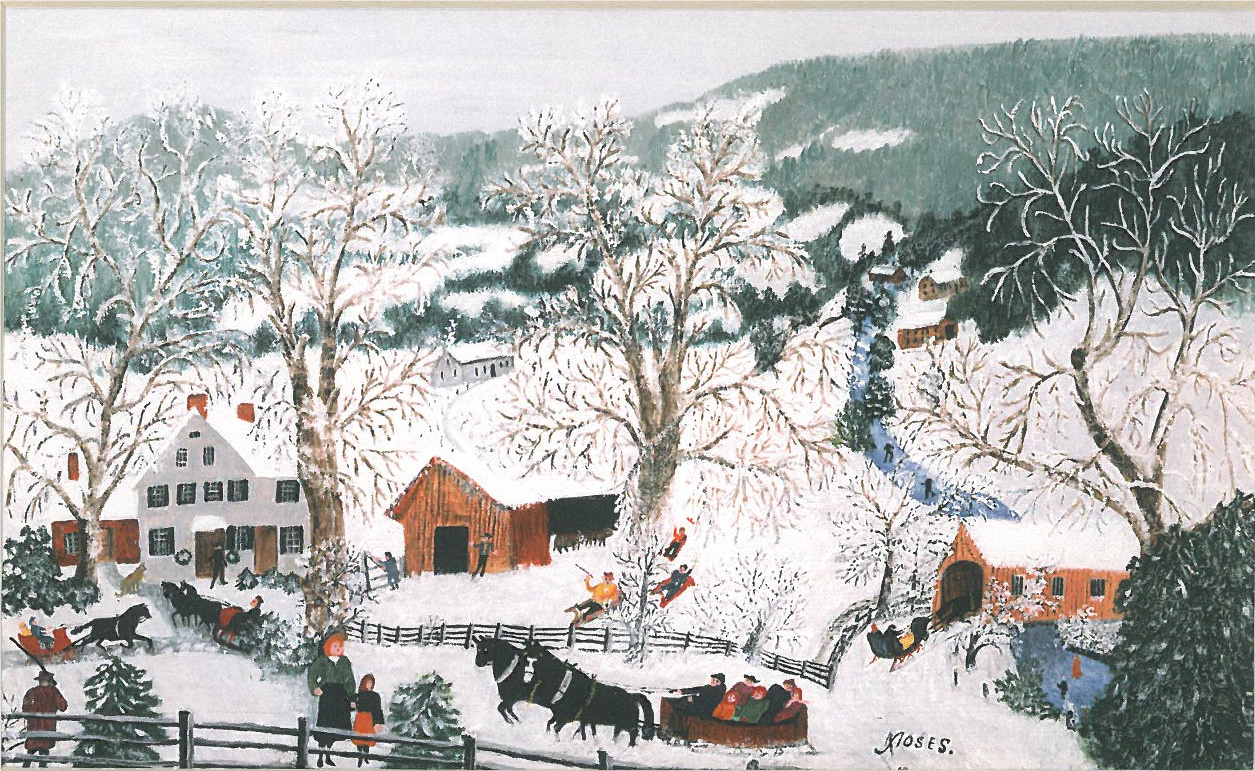 4. Her paintings would never have sold for as much as $1.2 million
As she grew famous during her career, her paintings were selling for as much as $8,000 to $10,000 (1940's prices). In 2006, one of her paintings sold for $1.2 million.

5. She wouldn't have been named "Young Woman of the Year" at age 88
She was given this title by Madamoiselle magazine. She was also named as one of the five most newsworthy women of the year by the National Press Club in 1951.

6. She wouldn't have appeared on the cover of TIME Magazine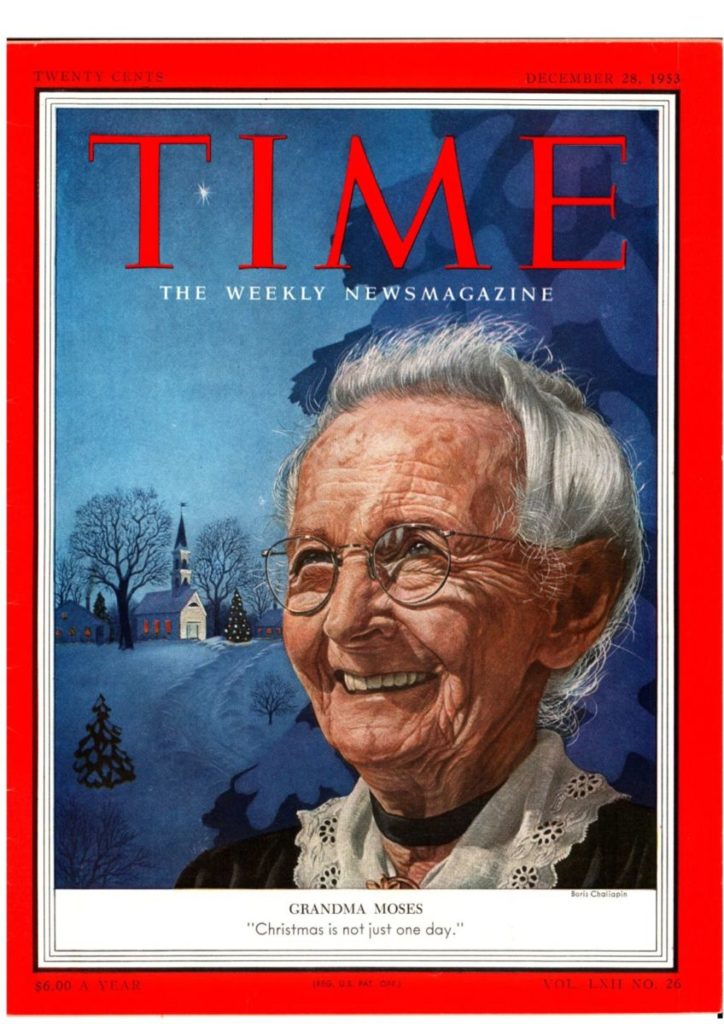 7. She wouldn't have received two honorary doctoral degrees or been handed an award for her outstanding achievements by President Harry S. Truman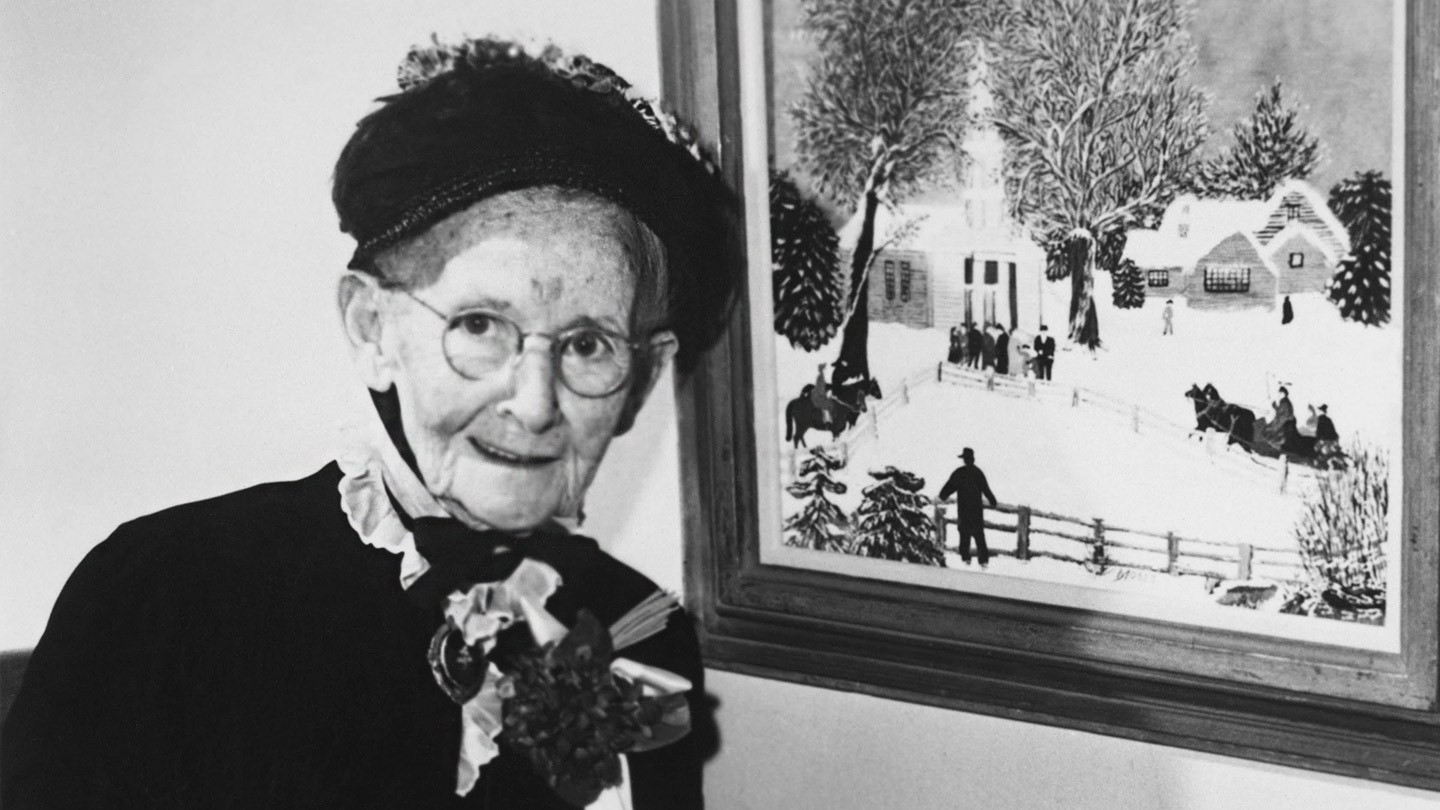 8. And after she died at the age of 101, President John F. Kennedy wouldn't have said "The death of Grandma Moses removed a beloved figure from American life"

Not a bad list of achievements for somebody who began painting at the age of 76!
Grandma Moses didn't think she was too old, and she was right. 
She wasn't afraid to show her work, or to offer it for sale.  And when her right hand eventually succumbed to arthritis, what do you think she did? 
She swapped hands and started painting left-handed.
There are lessons we can all take from this inspirational lady.
But let's not apply pressure on ourselves to display our work in galleries and appear on the cover of TIME magazine.
I'm pretty sure Grandma Moses wasn't motivated by these things. She was just somebody who was doing what she loved, and doing lots of it. 
My grandad was also somebody who found his passion later in life when he took up oil painting in his retirement. He became very good indeed, and he too was a very productive artist. But unlike Grandma Moses, he didn't sell any of his work. Money and acclaim wasn't what inspired him.
He just loved painting.
You don't even need to pressure yourself to be productive. 
Producing volumes of work isn't the name of the game here. This is about you spending time on a regular basis doing what you love, and doing it just for you.
So, back to the mural Barb asked me to paint. I had a great time painting it for her, and she was so pleased with it that she commissioned me to paint two more Grandma Moses inspired murals for her.
But more than just the act of painting, her faith in me to do a good job – and even to pay me for my paintings – fuelled a flame deep inside that wondered if perhaps I could make art my career in some way. It took me another 6 years to bring that into consciousness fully and to act on it, but Barb and the Grandma Moses story helped make that happen. They helped me come to realise that, even though I had taken the more 'sensible' academic route at uni, it wasn't too late for me either.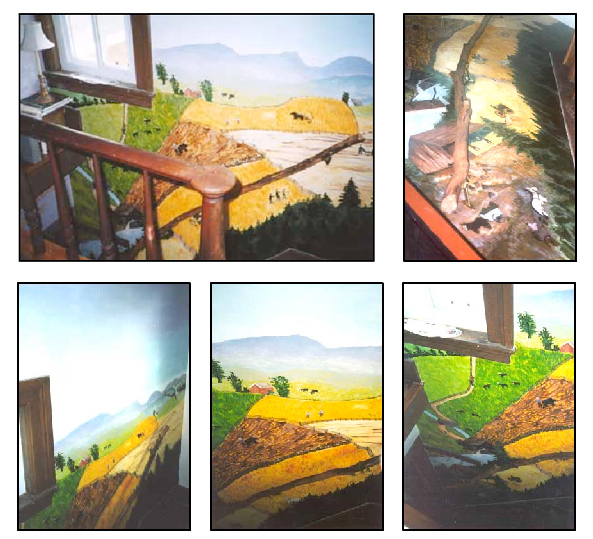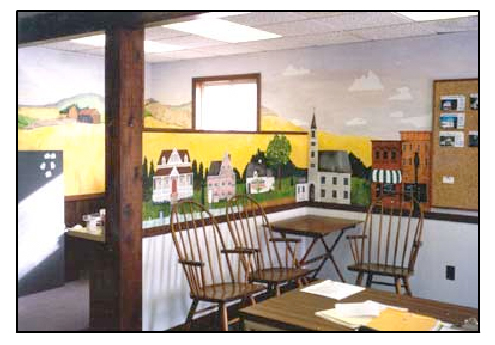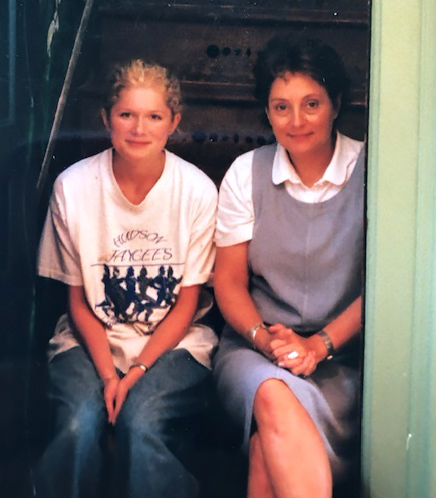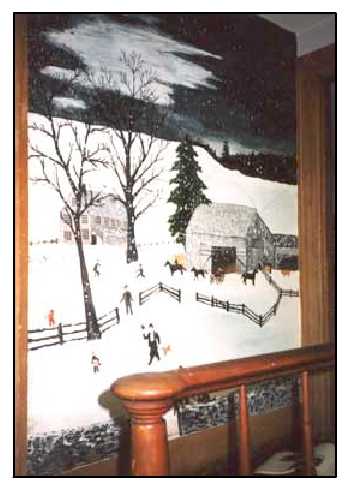 I'm so grateful to have met Barb. We stayed in touch and Phil and I visited her and her husband John in the States 4 times over the years.  The last time was just before I embarked on IVF for my son Ben. 
This has been a difficult post to write because Barb passed away earlier this year after a brave battle with cancer. She was only 68.
She was a good friend of mine and though we lived far away from one another, she meant a great deal to me. I really miss her and am so sad that I will never get to laugh with her again. And she will never get to meet my children. I hope to keep in touch with her lovely husband, adult children and their families who have experienced such a loss.
Barb had been thrilled that I decided to make painting my career and always offered support. In fact in 2013, she even helped me to exhibit my work in Florida where she was then living. Her enthusiasm for life, and for trying new things was an inspiration to me and to so many others whose lives she touched.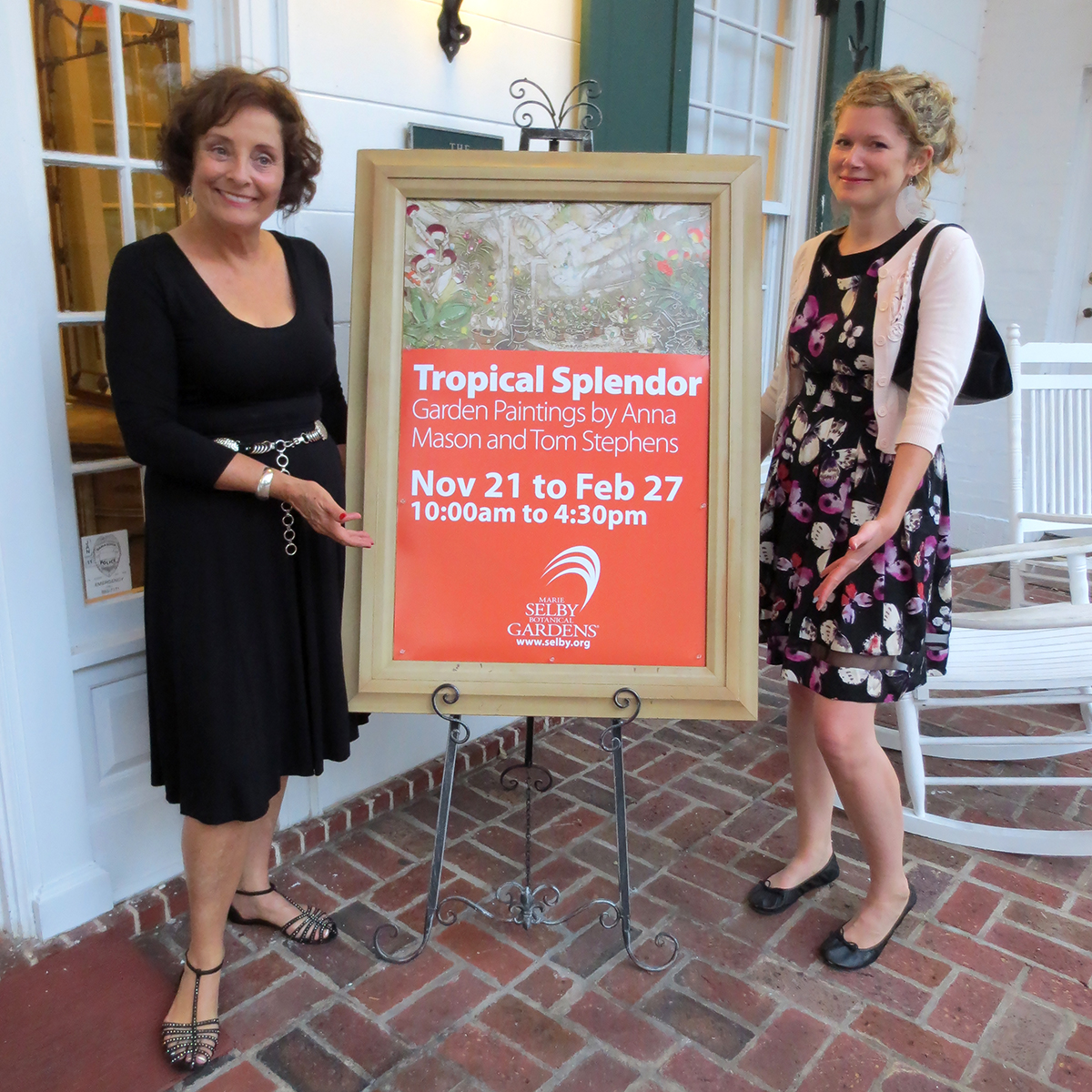 It's a painful reminder that time does eventually run out for us all. But until that day actually comes, don't write yourself off. Don't think that you're too old and please don't chastise yourself for lost time. 
Your time is now.
The question is; what are you going to do with it? 
I hope some of Grandma Moses', and Barb's, "go-for it" spirit has rubbed off on you. If you've felt moved or inspired reading this post, please share your thoughts and experiences in the comments below.
And if you know anybody who feels it's too late to do what they really want to do, please share this post with them.

262 Comments
Subscribe to blog updates
The information you provide here will be used only to deliver the email course, along with other relevant updates from me. You can unsubscribe anytime. Click here for our privacy policy.