Artists: it's OK to work in more than one style
Advice to find your ONE personal style is based on a false premise. It doesn't take into account the way we grow and change and how finding our artistic VOICE is what's more important.
Having kids turned every part of my world upside down.
When I had my first baby Ben in 2017 my second book 'Anna Mason's Watercolour World' had just gone to press (I had to proofread it in the 2 weeks after he was born!). At that point I'd spent 10 years working in my realistic and vibrant botanical style and the book covered the whole approach.
But, like most new mums can attest to, having Ben, and then Fern 20 months later, turned my personal world upside down, let alone my 'watercolour world'. 
Not only did I have radically less time and energy available to make art, but as I stepped into motherhood, something inside of me started to want to create in a different style. Something a little looser and a little more expressive of ME. It's been a time of huge life change and personal growth.
Time to experiment and explore my artistic 'voice'
I wasn't clear what I wanted my artwork to look like, but I knew there was only one way to find out: experiment. Even finding the time to do that has been hard and I've only seriously prioritised it over the last year as Fern has been at nursery, and now school, full time.  What's emerged from this process has been really enjoyable and satisfying.
As well as a little unnerving at times.

What I discovered as I allowed myself to paint and draw whatever, and however I wanted, is that I can't seem to get away from flowers as my main subject matter. There's something about their beauty, grace and colour. Something almost abstracted already when they're enlarged so you can see their incredible detail in patterns. It sets my heart on fire. 
I love to work with bold colour, high contrast levels, and bold composition, and to enlarge my subjects. I love to use negative space in the form of bold backgrounds.
But I also discovered that I like to paint in looser ways too with watercolour, where the brushstrokes are more visible and the painting more of a 'painting'.
I like accentuating forms with line work. I like changing up colours to enhance a mood the form is giving me. 
I also like working with opaque paint. I've experimented with acrylics but I've just come back to oils (which I used to love painting with throughout my teens).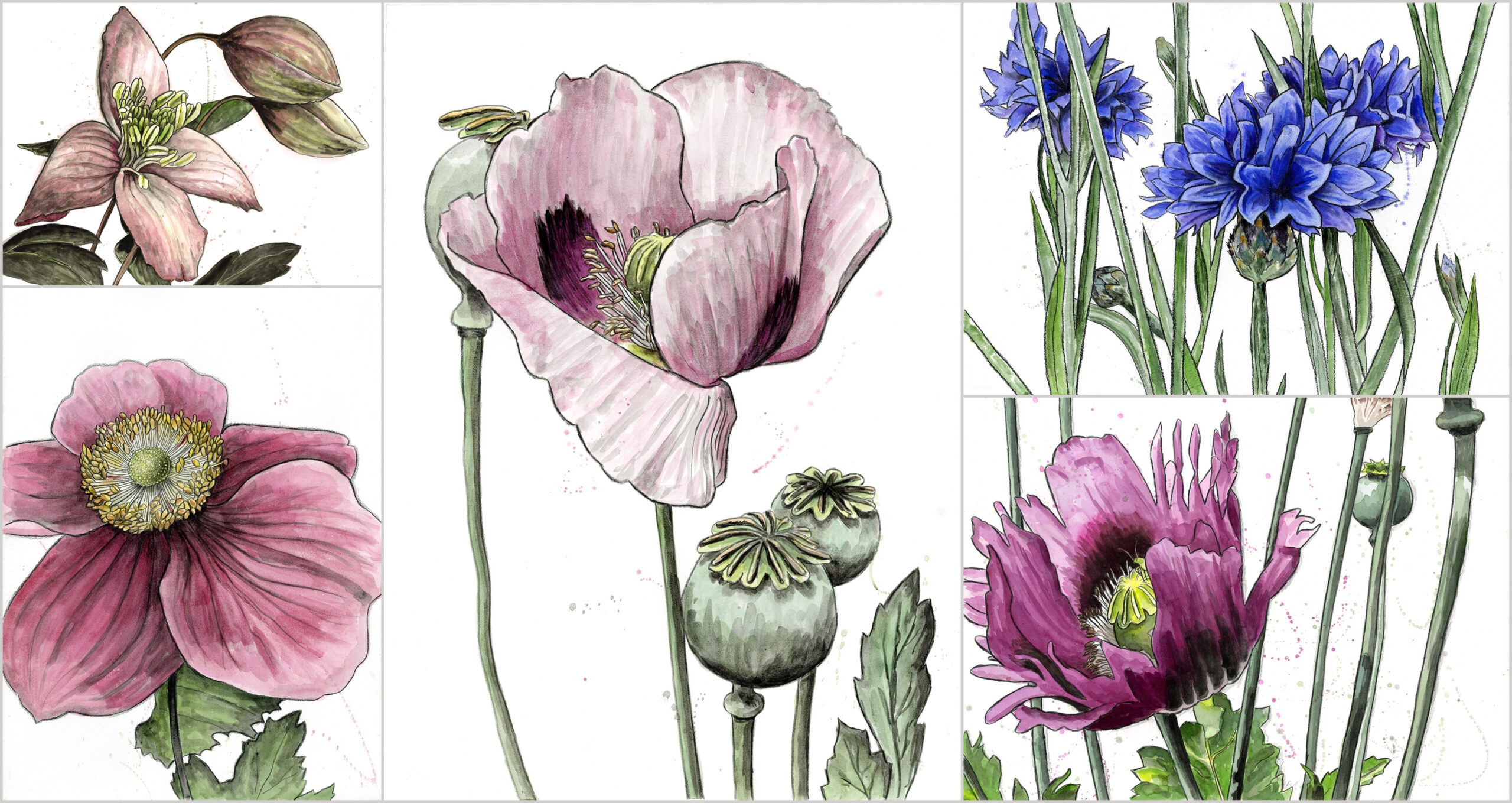 So right now I'd say I have two different watercolour styles – this line and wash one and my traditional botanical one. And I'm currently working on an oil style. They're all a little different, varying even in their medium but they all have lots in common too.  
What they have in common is what contributes to my personal 'artistic voice' that captures the subjects and themes I like to express in my work, and goes beyond a specific style and medium. 
Artistic 'Voice' is more than just 'style'
In her inspiring book 'Finding your artistic voice', illustrator and artist Lisa Congdon writes:
Your artistic voice is your own point of view as an artist: it includes your particular style – things like your own colour palette, symbols, lines and markings – your skill, your subject matter, your medium and the consistency with which you use all those things. It reflects your unique perspective, life experience, identity and values and it is a reflection of what matters to you. Ultimately its what makes your work yours, what sets your work apart, and what makes you different from everyone else's – even from artists whose work is similar.
The words Style and Voice are often used interchangeably. But your artistic voice is much more than your style.
It's also about what you want to communicate through your artwork. For me this continues to be about conveying the beauty and joy in the overlooked details in nature. 
And while most of the elements of style such as colour, looseness, pattern and composition are going to remain similar throughout your work, Congdon explains: 
'It's also true that you may, like many artists, have more than one style. Some artists make both representational and abstract work. Others make some work that is flat and graphic in style and also work that is more layered and intricate. Having one style is not important. What is important is that you use the elements of style consistently within each of your artistic styles.'
The 'stick to one style' advice
So my experimentation felt liberating to explore. But it did also feel a bit daring. Scary even. Because it was butting up against a lot of advice out there that says we should have one artistic style and stick with it, especially if we want to sell work. 
So an anxious part of myself would like to pop up to say things like:
"You're known for a different style of painting. You've done it for 15 years! People won't like this, it's too different. You'll lose followers, you'll lose respect. You'll confuse and upset people. They'll stop liking you."
And she has a point, right?
Because there's a lot of advice out there for artists that says we need to find our ONE style and stick with it. Like we have ONE style somewhere in us that IS uniquely ours.
But I think that is to confuse Style with Voice.
Of course as a professional artist it can make logical sense from a marketing perspective to just have one art style.
My artist career has been built exclusively on working in one style. It's helped people to understand me and get to know what to expect of my work. It makes sense. It's human nature to want to 'understand' an artist straight away by seeing just one style on their Instagram Profile. However, I think if you can find your artistic voice, and create from that, then your body of work, as shown on Instagram or a website, can still feel cohesive.
And more to the point, we don't really have a choice, if we're to be true to ourselves and express our unique, creative selves through our artwork.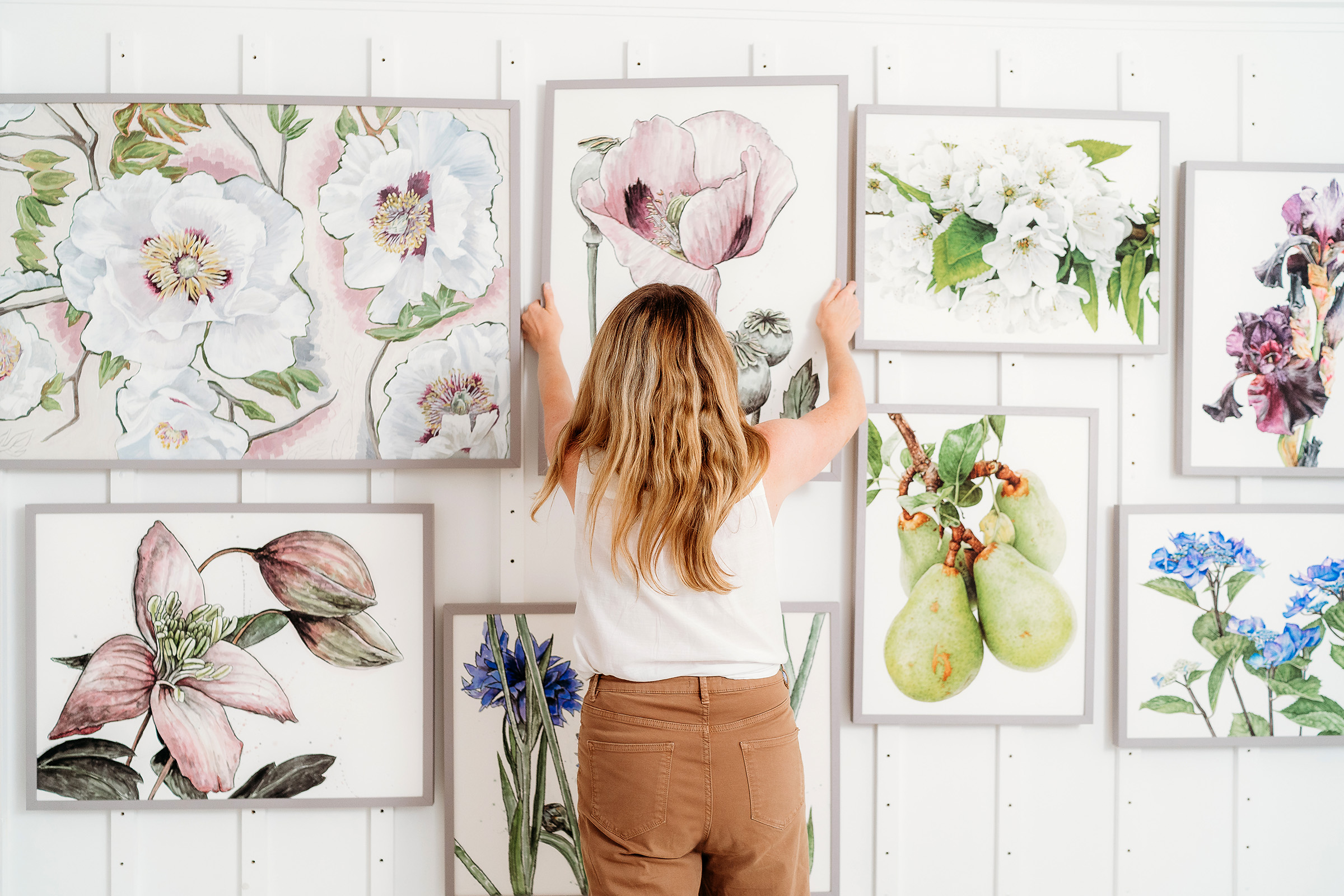 We need to create from our 'Inner Artist'. This is what makes our Voice.
If you're reading this you have what I think of as an 'inner artist' which you'll make your best work from.  It's a vibrant, emotional, part of us that is playful, energetic, and enjoys trying new things and going through phases. It's childlike – in the best possible way.
So finding our artistic voice is about honouring that authentic, creative part of ourselves. We have to follow these moments of inspiration where we are in contact with it. We can't ignore that spark. 
It's that spark that transfers to other people through our work. It's what lights them up too.

I followed a spark back in 2006 when I found botanical art online and KNEW I wanted to make it.  And I have to do it again now as I experiment and play with different styles.
And if that's true for me, and I make my living from my artwork, is it not more so for you if you're creating art for YOURSELF primarily?
Isn't making art about HAVING FUN? Connecting with JOY? 
If so, my advice is to stop trying to find your art style. Instead, follow your heart to whatever style excites you TODAY. It's truthfully ONLY this that will lead you to find the expression that is a match for the YOU of today. 
And if you feel the spark to try something very different tomorrow, embrace it! There's nothing wrong with that.
It can be AND, not OR, when it comes to styles
Opening one door doesn't mean closing the one behind you. When you learn a new language, you don't need to stop speaking in your mother tongue. 
I still love the meditative, flow state I get from painting realistic botanical watercolours so why should I stop that just because I'm trying something new?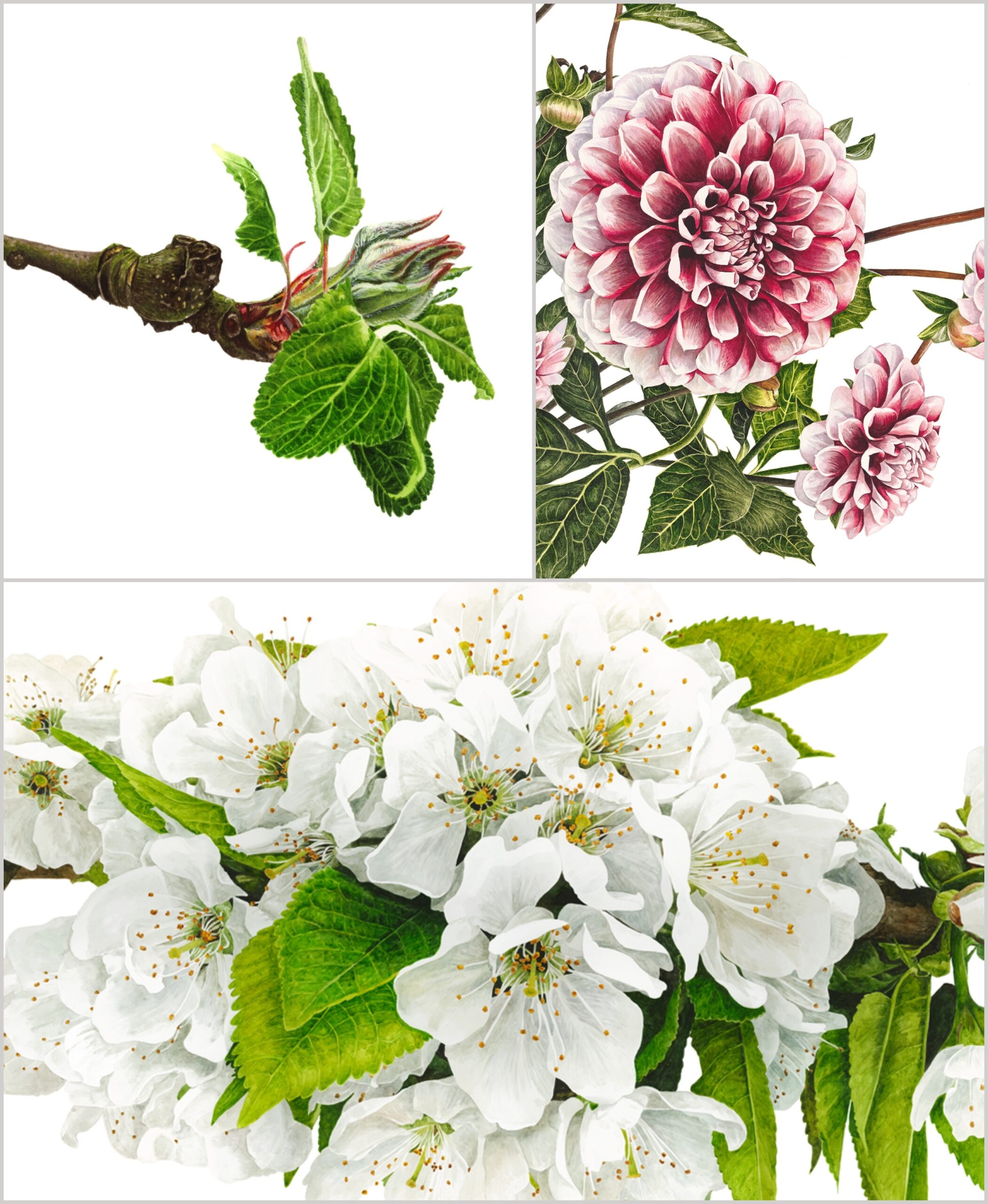 The botanical artwork I've been doing for so long has given me a deep appreciation of shapes and colours in the natural world – these are transferable skills in any style.
Being an artist is about the journey, not the destination
It's a cliché but the 'artistic journey' is how it's described for a reason. In that phrase is the acknowledgement that you need to move – and that will mean change. Most likely to your style & your medium.
How to get the all-important inspiration
Instead of waiting for inspiration to strike, there are actions you can take for yourself, for your inner artist, that are almost certain to get your creative juices flowing and I'll make a post soon in more depth about how to experiment effectively. 
1. Get inspired by Nature.
This has been the go-to muse for artists for, well, ever. Being in nature can often calm your mind, and give you a sense of connection to something bigger.
It can prime you to be receptive to your senses and to ideas springing up from within. And it may well provide direct inspiration from a beautiful view or something closer like patterns in the sand.
You won't necessarily get a clear lead on your style.
But it may help you to tune into your voice, by giving you an idea of what it is you'd like to try to capture and on what sort of scale.
2. Get inspired by other artists. 
Be inspired by other artists. Look on Instagram or Pinterest, go to galleries, Really notice what it is about their work you love when you love it.
The colours? The sense of light? The textures? The shapes? The subject matter?
Just make sure you STOP if ever you're feeling you're comparing yourself and getting pangs of not-enoughness. That's hurting your inner artist.
3. Get inspired by DOING

. 
Clarity comes from ACTION.  Whatever you see in nature that inspires you, whatever you like about another artist's work, you're going to have to TRY it for yourself.
See if you can capture the spark. Yes, to explore your artistic style and voice, you actually need to create.
But remember, starting a new style might not FEEL great right away
The THOUGHT of working a particular style might give you the joyful spark feeling. But remember, that doesn't mean it'll necessarily feel joyful and flow-like to do it right away.
There will likely be a learning curve as you fathom out how to recreate on the paper what you can semi-see in your mind.
You'll know it when it DOESN'T look right, and that can be frustrating. But trust. Get some good instruction to speed things up. As you work on it, you'll increasingly get closer to something that looks right and contains the spark. 
Ultimately, the best style & medium to work in is the style & medium you actually USE.
In my case, working in line and wash has helped me to create art MUCH more regularly than working in realistic watercolour. During this time-pressured season of my life where I'm balancing being a parent to two young children, a partner, running Nature Studio, being a daughter/sister/friend AND being an artist, I'm finding this faster style helps me to express my artistic voice in the limited time I can carve out. I can complete a line and wash painting in a shorter period of time, and each completed painting feels like an expression of my voice of today.
And that feels REALLY good.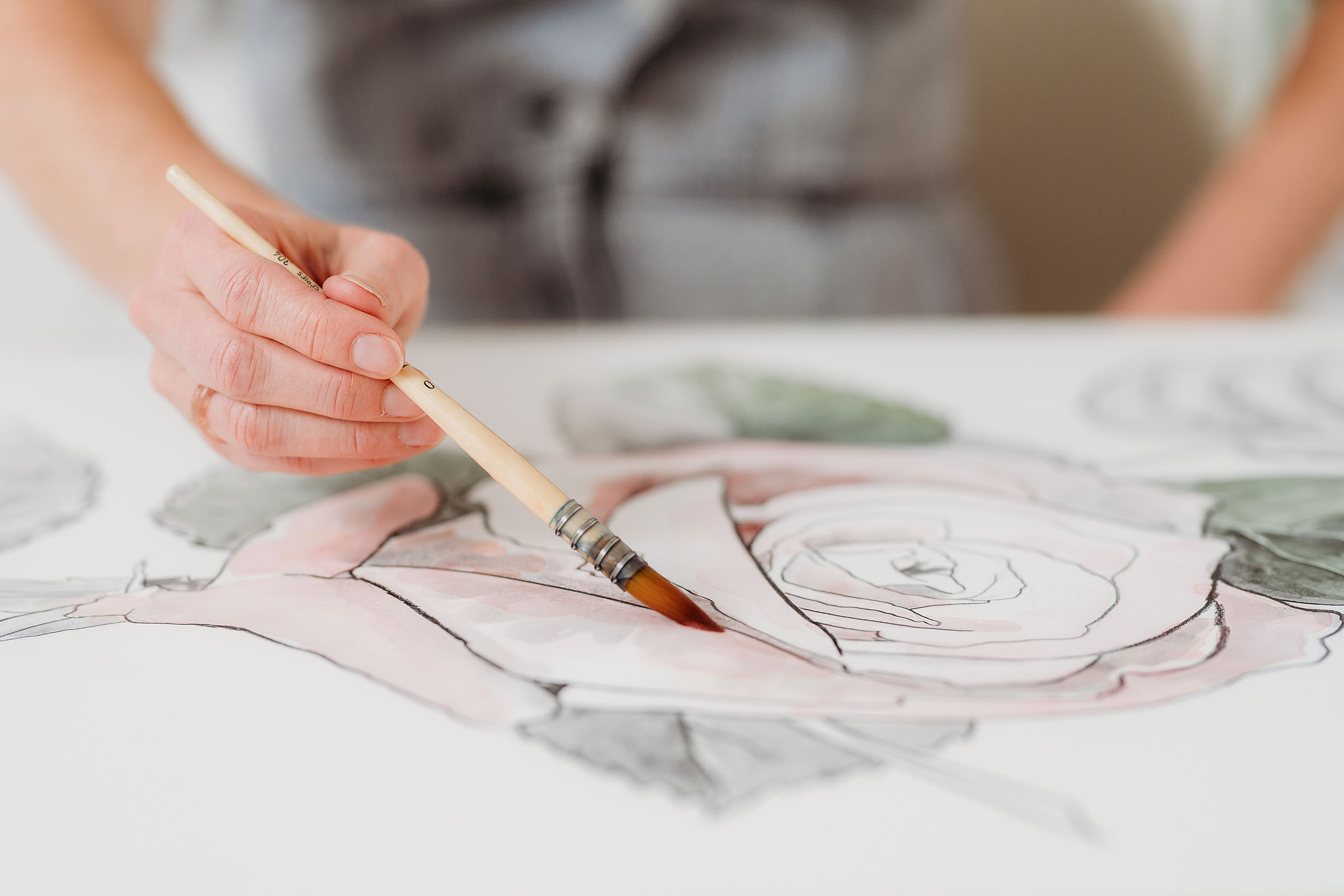 If you're not clear on what style lights you up right now, remember that creating in any style is SO much better than not making art at all. Which can happen to so many of us (for me I had a 7 year hiatus from it). If you're an artist at heart, making NO art is the worst thing you can do.
You don't need to find your art style in order to create. You need to create in order to find your art styles and most importantly your VOICE.
In summary: Be open to inspiration & change and ACTIVELY participate in the process.
If you've been working in the same style for a while, or you've tried a few but nothing has been 'clicking' I hope this article, and my own willingness to experiment, help spur you on to continue to take active steps to access your inspiration and keep experimenting and changing – accepting that having some never-changing one personal art style is not realistic or even desirable. 
Thoughts from Jerry Saltz
When I was telling my brother (who's also now an artist) about this new style I was feeling compelled to work in, and how it was also making me nervous,  he shared with me a quote from New York Times art critic Jerry Saltz. I went on to read his rallying-cry of a book 'How to Be An Artist' and I'll leave you with a couple of quotes from that now:
Don't define yourself by a single medium.
Don't limit your potential by presenting yourself as just one kind of maker: A potter, print maker, watercolorist, macrameist, landscape painter, stone carver, steel sculpture, paper maker, glass blower, sketch artist, etcher, graffitist, silk-screenist, collagist, eco artist. Digital or mixed media artist. You are an artist. 
Be inconsistent
Try whatever you wanna try. Different sizes, tools, materials, subjects, anything. You're not making product. Don't resist something if you're afraid it's taking you far afield of your usual direction. That's the wild animal in you feeding. This is how you will evolve new systems of meaning. New combinations and unexpected unions. That way you keep from being caged.
What about you?
Have you been trying to find your art style? Do you routinely work in more than one style? Are they similar or very different? Does your medium change too? Have you bought into the need to find your 'one style' idea? Or have you only ever wanted to work in one way? How many years have you been doing that?

I'd love to hear from you and have a conversation in the comments.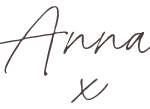 P.S. I've already recorded a set of tutorials in the looser line and wash style, which will be released in Nature Studio for members to explore in the New Year.  There will also be some free line and wash mini classes to follow. If you've ever struggled with the patience to paint in a realistic style, I hope you'll enjoy giving them a go.
Subscribe to blog updates
The information you provide here will be used only to deliver the email course, along with other relevant updates from me. You can unsubscribe anytime. Click here for our privacy policy.