How to keep an art journal for creativity
Do you feel 'out of sorts' if you've not created art for a while?
I certainly used to. I went 8 years without creating any.
I wasn't always aware of it. For me it's a kind of background frustrated restlessness.
It turned out that creating art was fundamental to who I am. And I've only realised that by learning more about myself as I've gotten older.
It can sometimes be hard to get in touch with who we really are: our authentic selves. One of the tools I've used to help with that is journaling. And it's worth the effort. When we are able to connect with ourselves we feel: Calm. Curious. Energised. Restored. Strong.
Our creativity flows.
Here I explore how keeping an Art Journal can help make this happen.
What exactly is an 'art journal'?
Usually a journal involves regular (ideally, daily) writing. So you can think of an 'art journal' or a 'creative journal' in a similar way. The difference is that, although you might write a few bullet points, a paragraph or pages and pages of prose, you'll also want to inject colour, images, drawings and paintings. In fact you might hardly include any words and keep it really visual.
Your creative journal can take the form of a spare diary, a notebook, sketchbook, or can even be digital, like on your iPad (which is where I'm currently creating mine).
What to focus on
The Skills Focus
You could use your art journal to experiment with colour and mark making, documenting your thoughts and feelings about what you're doing as you play. 
This is especially important when you're in an early stage of your creative journey and developing your skills with different media is a high priority. You need a safe space to make mistakes and take risks. In this case you're likely to want to use good old fashioned paper so you can practice painting for real. 
Working in this way you can flick back to your earlier entries and track your progress which is really satisfying. 
The Inspiration Focus
You can also use your journal to look within to discover what's going on with your feelings and to create from there.  The sorts of things you'll be on the lookout for include: What caused you to feel inspired today? Was it something you saw? What are you longing for? Are there subjects you keep being drawn to? Colours?
Some days the answers will come readily. You'll have taken some snaps on your phone of something you saw on your walk. 
Other days we could feel preoccupied with worries and stresses. The point is to welcome anything and everything.  Write about it, draw it. Whatever comes up. Even if the 'drawing' is a squiggle of a doodle. There's value in it when you are taking this approach to your journal.
Feel frustrated and blocked? Does that look grey and spiky to you? Write about it. Draw it. Feeling sad and low? Does that look small and blue?  Write about it. Draw it.
Getting the idea?
And if that doesn't work for you, you don't want a sketchbook full of grey spiky doodles, use your session to simply make note of how blocked you feel and think of things you could do tomorrow to invite creativity back (see my vlog on how to make inspiration show up).
With this focus, your 'art diary' will likely become a vault of ideas. You can also take your journal with you everywhere you go and use it to document inspiration as soon as you see it. It's amazing how much more you do start to see once you begin doing this.

The Bit of Both Focus
Or you can do a bit of both. On the days you felt really inspired, create from there. On other days practice your colour mixing. Your art journal can take whatever shape you want it to.
The point is: anything goes. 
Permission is granted.
The benefits of creative journaling
Whichever approach appeals to you, creative journaling reaps rewards:
Connecting with your creative self
I believe there's a core, authentic self within us all. Think of it as your soul, the bit of you connected to something bigger, or think of it as just YOU without all the social conditioning that gets in the way. However you choose to think of it, when we're in connection with it life is more joyful, more peaceful and our relationships are happier. 
For those of us with 'making art' as part of our authentic self blueprint, spending time with our art journal strengthens that connection to our core.
Quieting the inner critic
If you have a perfectionist streak, or have found the pressure to create something 'good' inhibiting, it's likely your inner critic gets a little vocal when you sit down to make 'art'. 
Working in an art journal can be exactly what that part of you needs to relax and take a backseat. The pressure is off. No one is even going to need to see this. 
It. Doesn't. Matter.
That's big. And for some people this can be key to connecting to their creativity again.
Fitting into life
I've talked before about how I believe that it was how convenient watercolours are that helped me keep up my painting practice early on my painting journey as I fitted it around full-time work.
Well, now I have two young children, my me-time has evaporated by an order of magnitude. Now I might only get 45 mins of me-time before I go to sleep. And I want to be IN bed by that point in the day.
So creative journaling (on the iPad for me) means I can still connect to my creativity, and myself. And get to snuggle up too.
You might not have 2 young kids, but for most of us it's rare that the conditions for working on a full-blown painting or drawing are spot-on.  
You might not have very long, or the light might not be good enough to work or you might have run out of a colour of paint you need. Rather than let that creative inspiration evaporate and go to waste because conditions aren't perfect, this is the ideal moment to get out your journal and do your best with what you've got right now.
Maintaining momentum
So, to sum up, art journaling helps you to maintain creative momentum
It's something artists often struggle with: hopping from project to project, sometimes getting stuck or bored with a painting they haven't finished yet. Not feeling inspired to paint, they skip a session. Then another session. Before they know it, they're off track and their paints are starting to acquire a layer of dust. 
If you've experienced this, give creative journaling a go.
My experience: Travel Memoir
As I write this, I'm 6 weeks into the coronavirus lockdown. I am usually quite a home-body. But from time to time I've experienced episodes of strong wanderlust. And, with no prospect of travel in probably at least a year or more, this lockdown has brought one on!

So I took it to my digital art journal. I focused on the place I was wanting to return to: the Ionian Islands in Greece. It's where Phil & I honeymooned and I've been there at least 8 times over the years. I dug out photos I'd taken at the time of flowers that inspired me.  I spent time looking at regular holiday snaps like these too: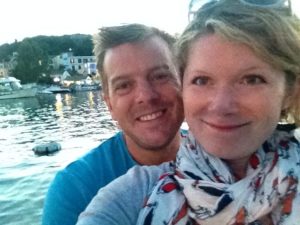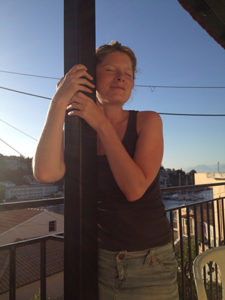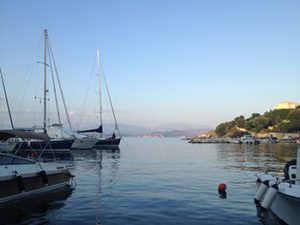 Then I got in the zone. I opened a new doc in Procreate (my painting app of choice on the iPad – which I use with an Apple Pencil). I used a soft pencil (tool) to sketchily outline the flowers and bird, and then used a watercolor brush (tool) to add colour, and a few watercolour 'splats' for effect.
And what made the experience far more evocative to me was that I also wrote a few sentences where I conjured up sensory memories from time there.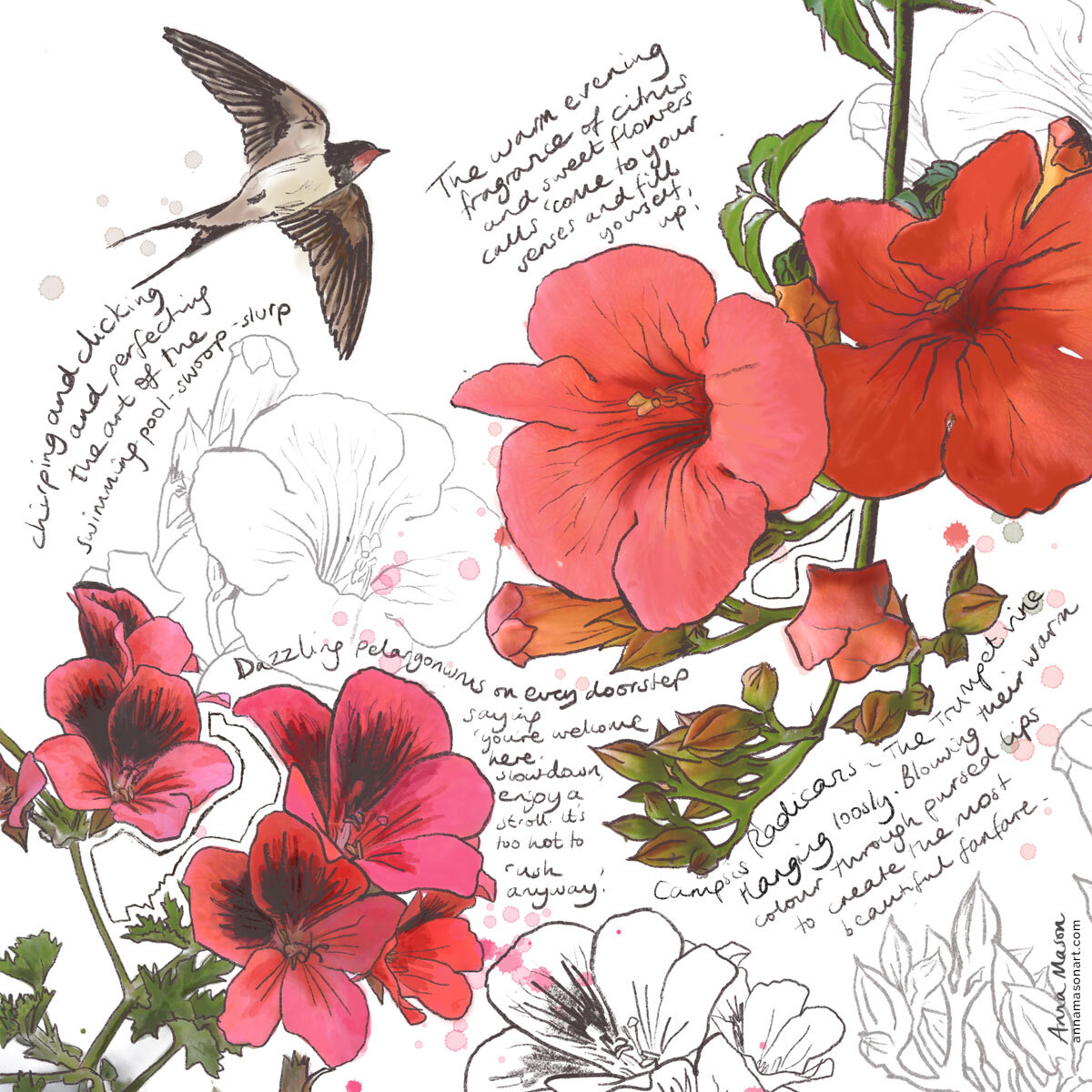 It took me about 2 hours. And for those 2 hours I was there. Strolling around a harbour in the Ionian Islands. Wanderlust tamed. Creative itch scratched. It felt so good.
I'm loving using my creative journal to really tap into what it is that inspires me, and to explore styles, memories and feelings. I can't recommend it enough.

Though it feels a little scary, I'm thinking of setting up a new Instagram account to share more from my journal so please leave me a comment below if that's something you'd like to see!
How to start
If this has inspired you to give it a go, here are my top tips:
Decide on a format
A spare diary, a notebook, a sketchbook or a digital document will all work.  If it's sketchbooks you're after check out my review plus my recommendations on what to look for.
Date it
If you're using a  non digital medium like a sketchbook, be sure to make a note of the date with every journal entry, because you'll be able to reflect back on it as often as you like and see your progression and improvement.
Do it daily
Making a journal entry daily  is one of the best things you can do to develop your skills as an artist because it's a habit forming practice. It will keep you on track, keep your goals in your mind and it'll get you to regularly review your work.
If that seems too much to start with, begin with a resolve to journal weekly, but schedule it in your calendar so you can't forget.
On the days when you don't have time, a couple of minutes writing notes or sticking in an inspirational photo you've seen is all it takes. And when you do have time, you can fill your pages with whatever you feel inspired to create that day.
You might wonder how on earth you'll find the time and inspiration to keep a journal, but once you start it will grow its own traction and pull you along your creative path.
I hope this inspires you to start a creative journaling practice.
If it has, or if you've also experienced the benefits of keeping an art journal, please share your experience in the comments below. We all benefit from exchanging our creative experiences.

Happy painting,

Sometimes we need to see something to really WANT it. So I'm including here lots of photos supplied by members of my online School who've have been kind enough to let you look inside their journals to help inspire you to start your own:
Subscribe to blog updates
The information you provide here will be used only to deliver the email course, along with other relevant updates from me. You can unsubscribe anytime. Click here for our privacy policy.