Improve your powers of concentration by getting into nature
Have you ever got frustrated by your ability to stay focused when you're painting?
I know that for those of you who like to paint in a detailed way, this can often be an issue. To paint like this requires intense looking – and that requires concentration.
I'm often asked how it is that I am able to concentrate for such extended periods of time – and I never really had an answer for that.
But I do walk my dog, out in nature every single day.
And before reading this research I'd never really linked those two activities.
I've just discovered a theory known as 'ART', standing for Attention Restoration Theory. It was developed by Stephen Kaplan of the University of Michigan in the 1990s. The theory holds that we have two types of attention: involuntary and voluntary. Involuntary attention is effortless, relaxed and non-directed – the sort you're using when you're walking in nature.  Whereas voluntary (or directed) attention is the sort you use when you're concentrating.
Voluntary attention is tiring, and it's exactly the sort of attention required for really and truly looking at a subject in the kind of intense detail we do.
Naturally when we've concentrated for a long time we need to take a break – and I advocate taking regular breaks from painting to refresh your ability to 'see'.  We also need to sleep regularly and for sufficient lengths of time. But what this research shows is that being in a state of involuntary attention is highly effective at restoring our voluntary attention. And the best way to be in a state of involuntary attention is to  get out into nature.
This makes A LOT of sense to me.
I knew my daily dog walk was great exercise, and that exercise has loads of positive benefits, including for our ability to concentrate.  But when I lived for a year with my dog in a town in 2012, my walks, though just as long, never felt as restorative and my ability to concentrate suffered.  I really missed the countryside and moved back to live in it as soon as I could.
This is a watercolour I did (deliberately it's is in a different style to my usual work) of me and Dexter walking in the Surrey Hills by my home. Can you spot us?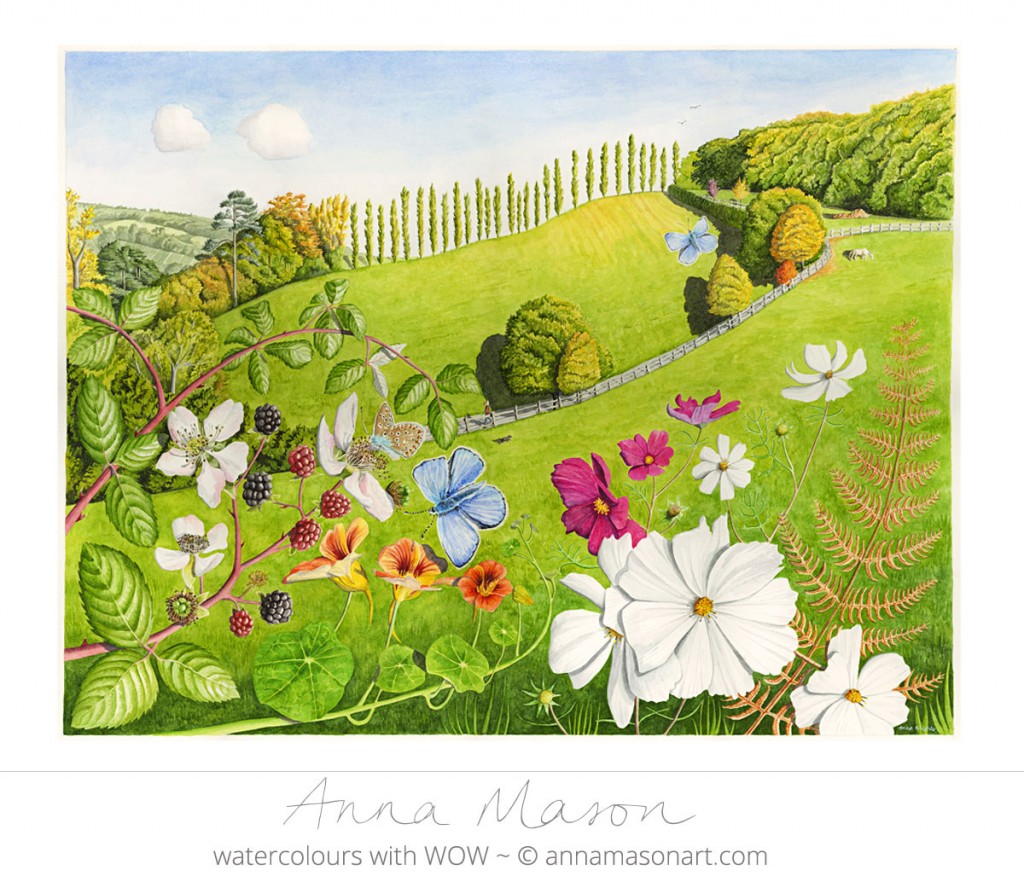 After being in nature, I feel calmer, more peaceful and and, especially on sunny days, hugely inspired. And I can't really imagine trying to paint until I've had this time soaking up nature.
So if you'd like to give your concentration a boost, try taking a regular stroll in nature (even if it's just the local park). Spending time gardening or being in your garden can also do the job, and I know it's something lots of us enjoy.
But what if you live in a garden-less home in the city, or your mobility is really poor? Other ways that have been shown to improve concentration are to reduce your exposure to TV and to social media. As this article by Eric Jaffe details, both of these are designed to suck your voluntary attention in, depleting it further. I'm sure we can all relate to what too much TV feels like!
I would love to hear about your experience with nature (or even TV) and your ability to focus on your painting. Please share your story in the comments below!

Subscribe to blog updates
The information you provide here will be used only to deliver the email course, along with other relevant updates from me. You can unsubscribe anytime. Click here for our privacy policy.