Want anytime art inspiration? Tips for curating a digital photo library
Yesterday I was on my morning jog when something I was listening to on an audiobook reminded me of a photo I took in 2010 and I decided I'd take a look at it once I got home. 
It's in my art photo library on my iMac computer. 
A few years ago I had to call out a specialist Apple repair guy to fix something on my iMac and he told me that my photo library was one of the biggest he'd seen. Gulp.
I find that quite surprising, but it IS big. For over 15 years, I've been collecting reference photos I've taken to paint from.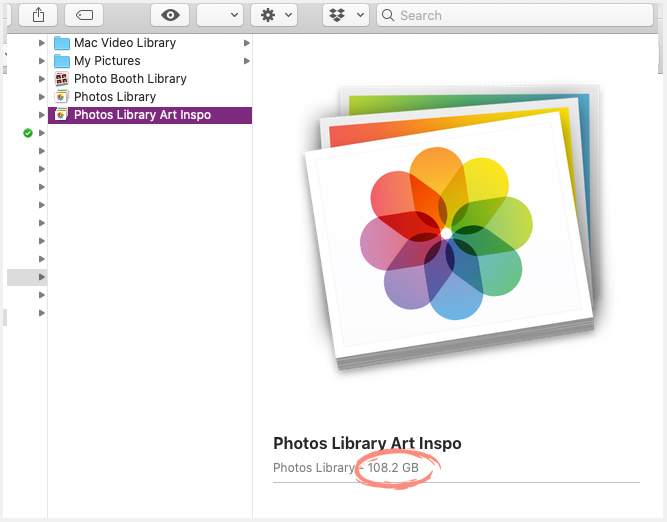 One of my most valued possessions

In my endorphine-driven running state I felt a rush of gratitude for that photo library. 
Shortly followed by a wave of nausea. 
I wasn't overdoing the running. I suddenly remembered that some time ago, maybe more than two years ago,  the external hard drive I was using to automatically back up my computer had stopped automatically doing that for a reason known only to itself. By this point I was using the Cloud for all my work so I didn't worry about it.

But I'd forgotten about my precious photo library!  I hadn't let it sync to the cloud as it would have taken forever. So, without that harddrive doing it's thing, my collection wasn't being backed up. 
Or was it? 
People who have been parents to young children will recognise the memory lapses that happen when you've been sleep deprived for too long.  I really wasn't sure if I'd managed to get the hard drive backing-up automatically again, but I've had enough life-admin fall off my radar over the last four years to know I'd need to check when I got home.  
And, like all the best mind-made panics, this had been unnecessary. When I got home I discovered I had remembered after all. 

Like a time-capsule

This worry about losing my photo library reminded me of just how valuable that resource is to me. 
It's a collection of memories of hundreds of photography sessions. Some from long visits to gardens like RHS Wisley, and some which were just a couple of snaps I took on a walk.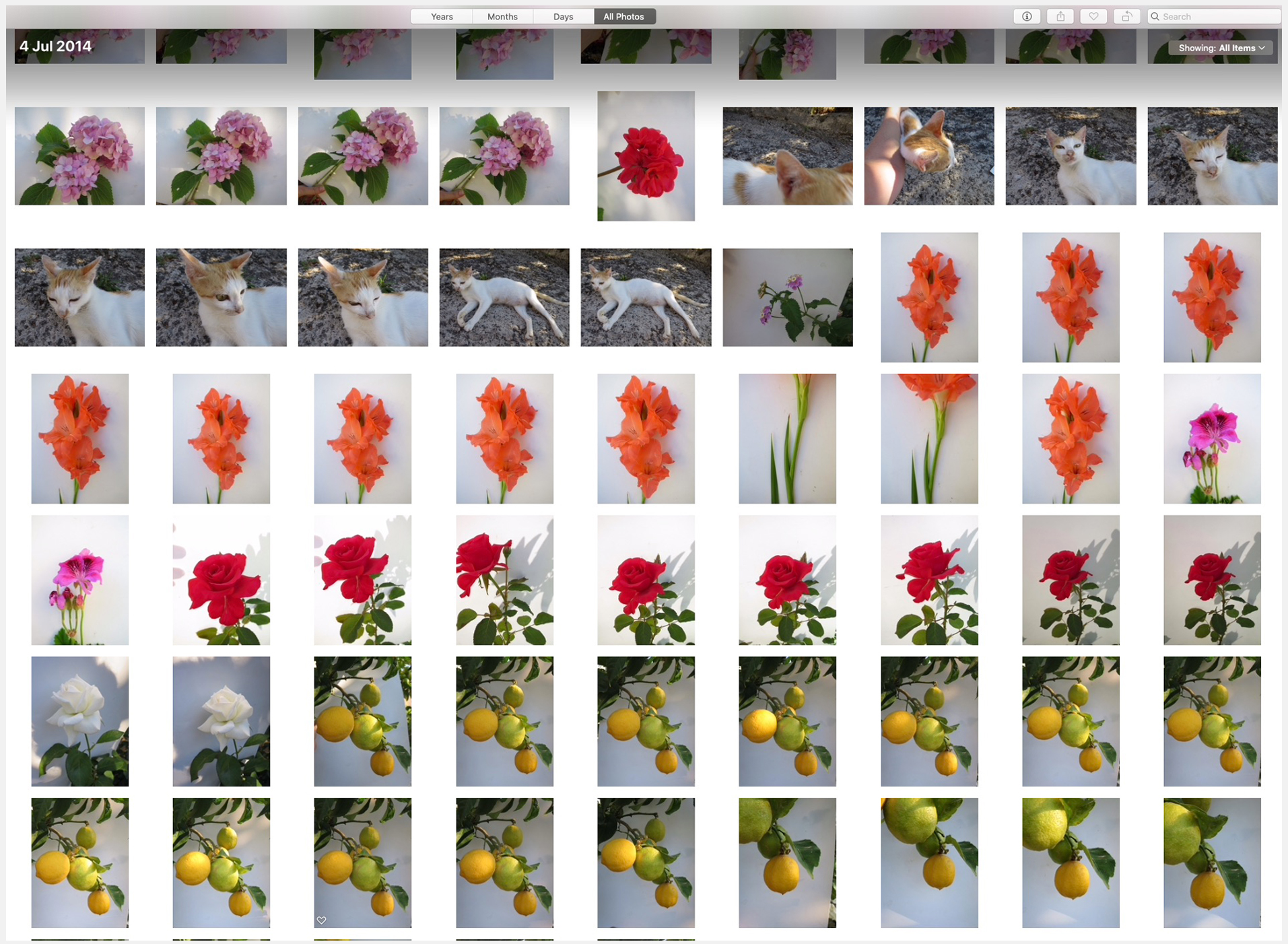 Each time I review my photos, my memory is jogged in a way it could never be without them.
I'm taken back to the moment in nature and what it was that struck me with inspiration about the subject. Viewing the images on the computer may not be quite as sensory as actually being there, but as research shows, it still gives a real hit of nature connection and it feels great. 

Gets me fired up to create

If I'm seeking inspiration I need go no further than my photo library…
Reviewing my photo archive, I always find one that feels 'new' again and I'm excited to paint. It's been invaluable during the last few years when I've not been able to spare the time to go out and photograph as much.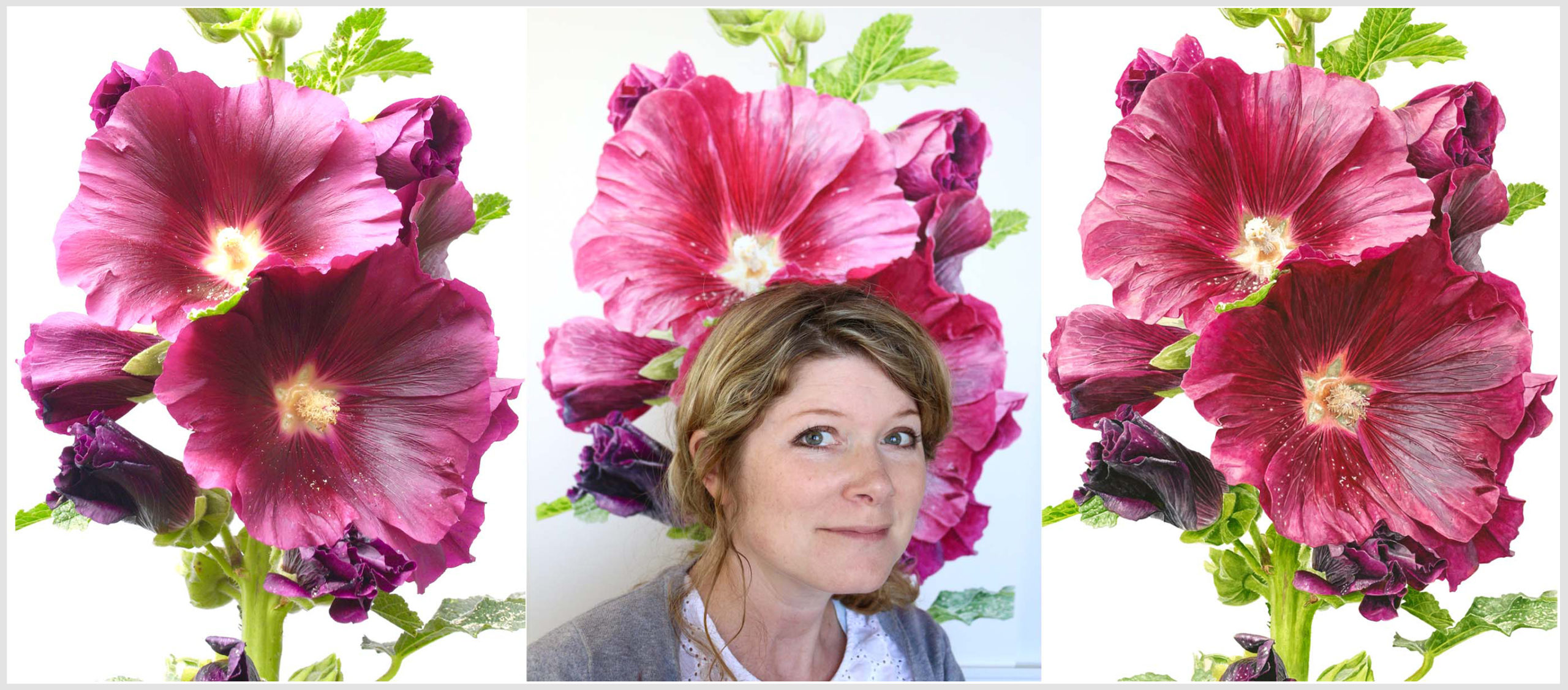 Why photos?
Before I share my tips for how best to manage a photo library for inspiration, let me just state again why I love to take photos, and use them as my reference for creating art (for lots more more on this check out this post and this post):

Using photos as your reference, you can paint your subject ANYTIME.

I love painting flowers, but if I only painted from life, I'd need a second home in the tropics to enjoy that during the winter. And photos keep moments perfect for, well forever. 

The photo renders the subject from 3D into 2D for you in an instant, capturing the way light was hitting it.

So a lot of the hard work of capturing the subject on paper is actually already done. Freeing you up to focus on recreating the shapes and colours 

You can play around with compositions easily when taking photos.

Below is a set I've taken (placing white plasticard behind the rose to help 'see' the composition') 

You can photo the botanical subject in its habitat

, allowing you to paint it that way without having to paint for hours outside, sitting in the undergrowth, or pick the flower to move it indoors.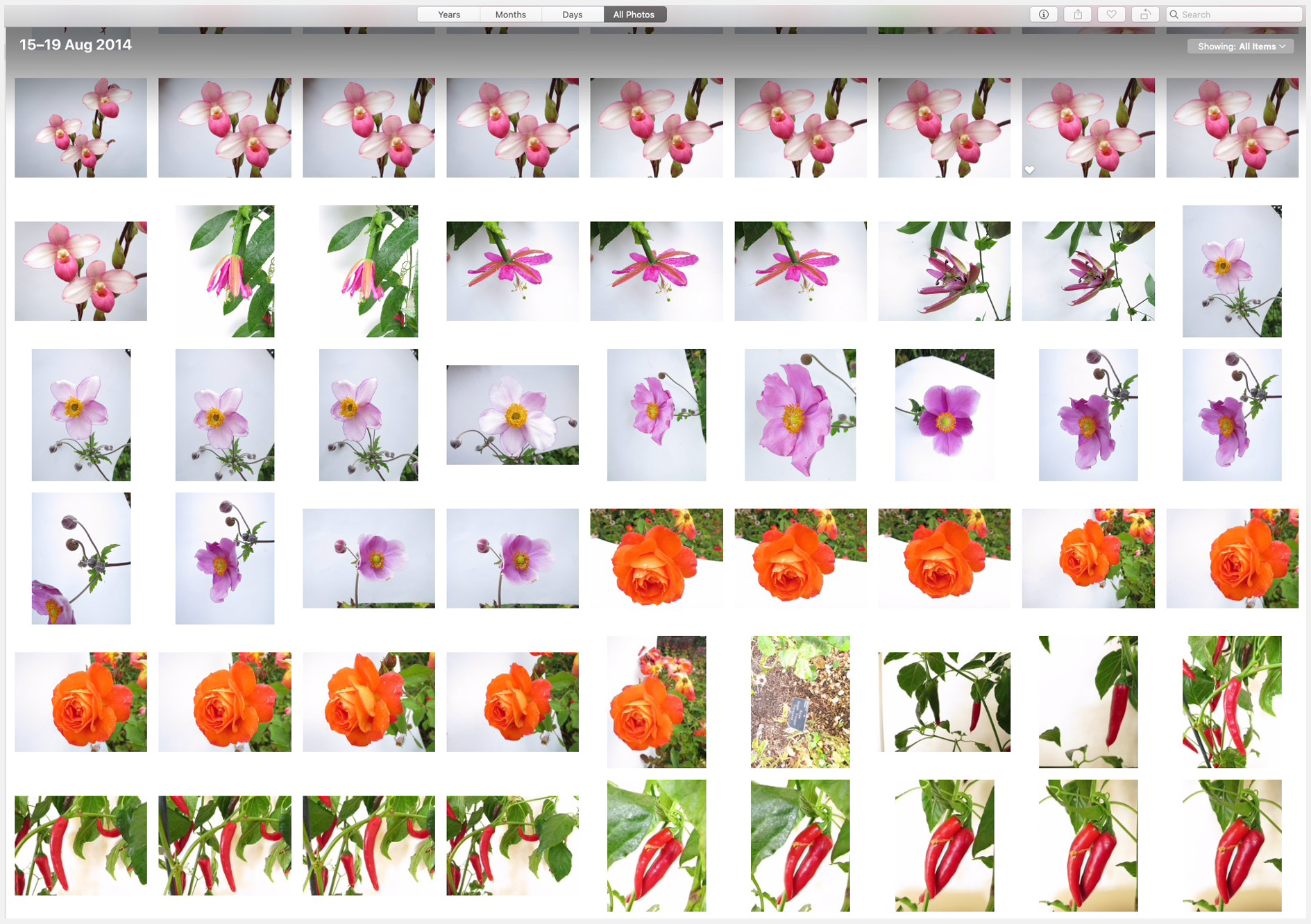 5 Tips for an inspiring and useful photo library:


1. Separate your inspiration photos from ALL the other ones.


This is THE most important tip.  And it's become harder, and therefore MORE important to do ever since we got smartphones.  
We're now carrying around a great quality camera all the time which has made impromptu inspo photography possible (great), but it's also caused a couple of issues. 
Now we take so many photos on our phones, our Camera Roll is a complete mish mash. Trying to find that photo of the pretty Dahila you took by sifting through photos of your niece, the cake you made, a selfie or two is, in my experience, a real hindrance to getting inspired. 
When you want to get inspired to create, you need to honor that by creating the right space. This is NOT the moment to get distracted by memories of other people or things that happened.
My solution to this (and I'm Apple focused here, but I am reliably informed you can do similar things with Android/PC) is to make use of a good quality Photo library app on Desktop.
I have always used the free version that Apple offers on Desktop (previously named iPhoto, then Photos) and, though I've researched other options like Google Photos, I've continued to find Apple's Photos to be the best option for me. 
My library predates smartphones. So when I began, I would take a digital camera with me on a photography session. When I got home, I'd connect it with a cable to my Mac and upload the photos in the Photos app on my computer. 
As my inspo photo collection grew, it became obvious that I needed to separate them from any family/holiday snaps. And I discovered then that it IS possible to run 2 photo libraries side by side. Problem solved!:
Now that I take more photos with my phone, I tend to AirDrop (Bluetooth) them straight into my 'Inspo Photos' library, or transfer them via the Cloud in a browser (no cables required).  
Note: Importantly, though I do use iCloud to back up my phone's Camera Roll,  I do NOT have my iCloud photos synced to my Inspo Photos Library app on Desktop or I would get all the non-Inspo ones popping in too.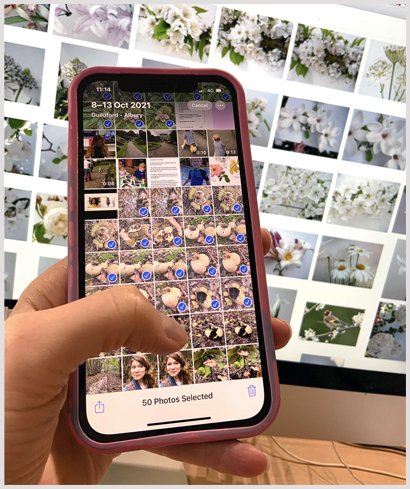 Having my inspo photos on my Desktop computer in one place means I can see them bigger and in more detail. And the features of the Photos library for Desktop mean I can easily scroll back through the years and months. This works for me because I have a good memory for my photographing sessions, and if I am looking for something in general (e.g. strawberries) I can flick straight to the month I know they would have been photographed (i.e. June or July). 
Crucially, Photos allows you to make the photos small as you browse them so you can scan them quickly with your eyes, looking for what inspires you, or to spot a specific set of photos you want to find. 
If using a separate photo library app seems a bit much for you, and you exclusively photograph with your smartphone, you could create an Inspo Album within your phone's camera roll and make sure you add any Inspo photos to it ASAP! 

2. Make uploading to your Photo Library app QUICK and EASY so you don't avoid doing it

Following on from tip 1, to make using a designated Inspo Photo Library work, you need to actually get those photos into it. For that reason, I've avoided using more sophisticated ways of organising photos as I upload them, such as tagging. 
Good photo library apps allow you to add text tags to photos (e.g. 'strawberries') and, whilst this would make finding all strawberry photos in your library with a 'search' very quick, it would only work if you had definitely tagged them. And that adds quite a bit of time to the upload process. Enough that it would make me put off doing it.  I don't even add my Inspo photos to Albums (like folders) as I upload, to categorise them a bit, but you could if you wanted to. 

3. Delete blurry shots, but make sure the whole thing was blurry

Digital photography has allowed us all to take a bunch of photos, with the intention to keep the best.
But, how often do you prune out the less-good ones!? My upload-to-Inspo-Library process is where I do that. 
OK, deleting the photos you don't want to keep can feel like a tedious task.
But it's important to do. When inspiration strikes and you're ready to review your collection and choose a reference photo, you'll want to see only the best ones that you took.
Managing the size of your photo collection and keeping only what you want can also have a beneficial effect on the environment. Although the 'cloud' isn't a physical thing we see, it's powered by big servers on the ground which take energy to run, so it's good to be conscious about storing only what we really need.
If a subject has a big depth of field, it's often hard to get the whole thing in focus. I'll often need to photograph each main part of a subject separately, with the rest of it out of focus, and then piece the in-focus parts together from that series to create the whole artwork.
On its own, one of these photos will look pretty blurry, which can make them easy to accidentally delete later. So if you need to create a series, it's a good idea to review and prune them down as soon as you've taken the photos, whilst the session is fresh in your memory.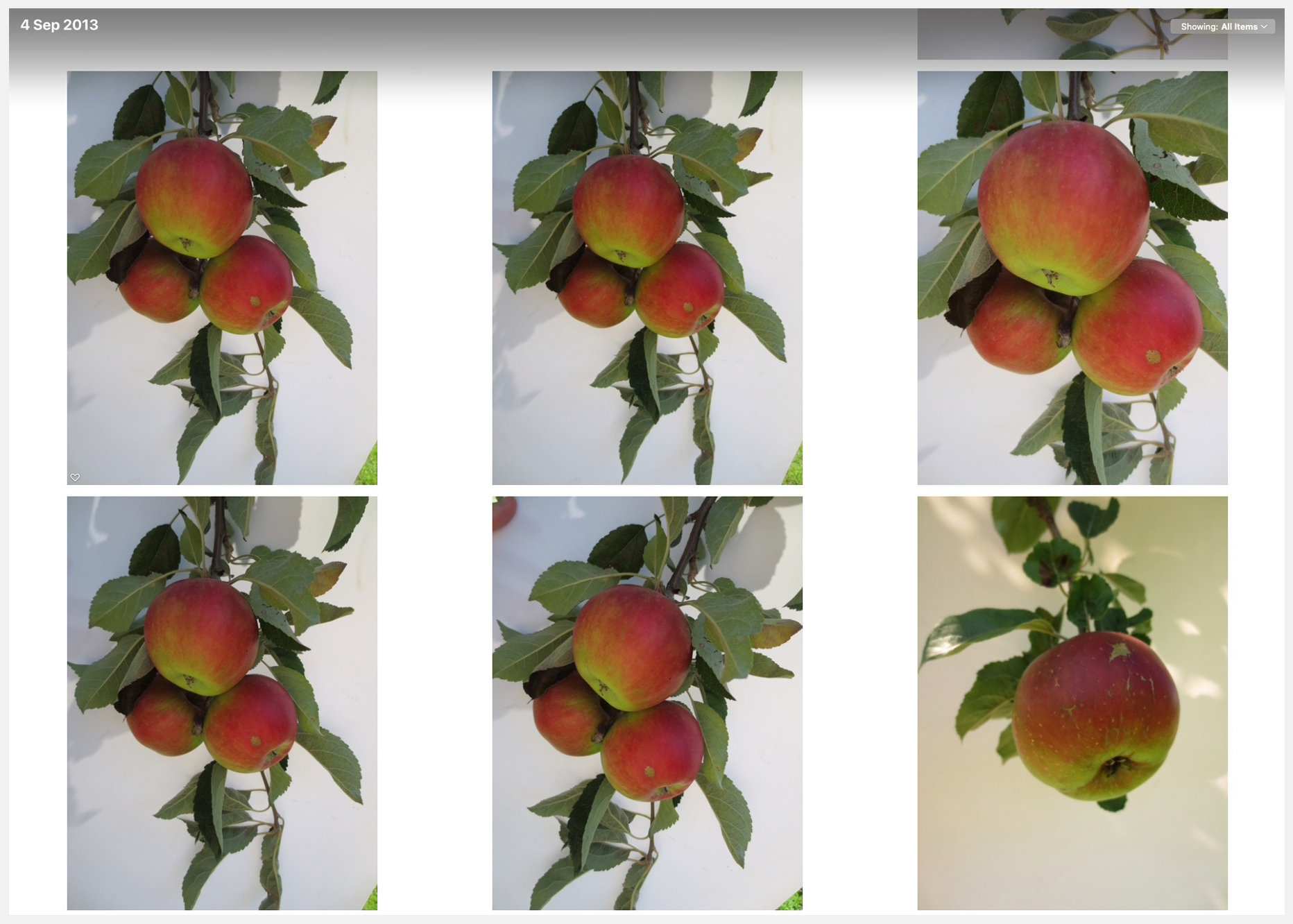 4. Use folders/albums to compare photos you might want to paint
When I am having an inspiration session with my Photo Library, I'll create an 'Album' where I can drag in any photos I'm feeling inspired to paint – to create a short list.
This is such a fun part of the process and combining photos in different ways is a creative act in itself. It's fun to plan out 'series' of paintings this way too.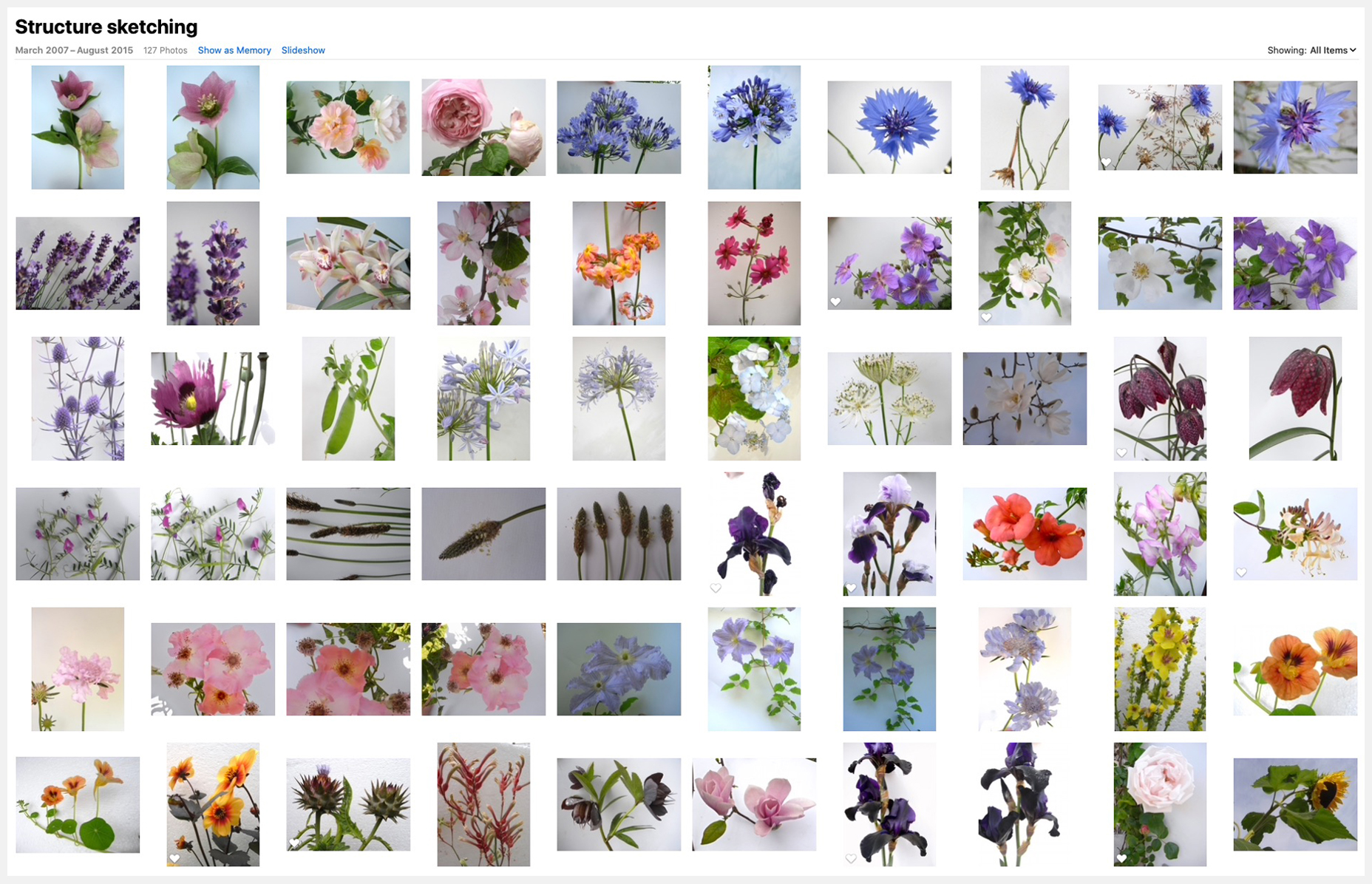 5. Make sure it's backed up!
As my experience showed, your Inspo photo library can prove to be a fantastic resource for your creativity over the long term. Save yourself any worry about it by making sure it's automatically backed up!

I hope this post has inspired you to reflect on this important and often overlooked part of the creative process. 
After you take an inspo photo, what happens to it next can be the difference between whether it becomes one of your artworks, or hides up in the cloud, never to see the light of day again.
Do you have a process for organising or reviewing your inspiration photos? Has this post motivated you to change the way you curate your inspo collections? I'd love to hear from you in the comments below!

Subscribe to blog updates
The information you provide here will be used only to deliver the email course, along with other relevant updates from me. You can unsubscribe anytime. Click here for our privacy policy.