Nowhere to paint? Top tips for making ANYWHERE your art studio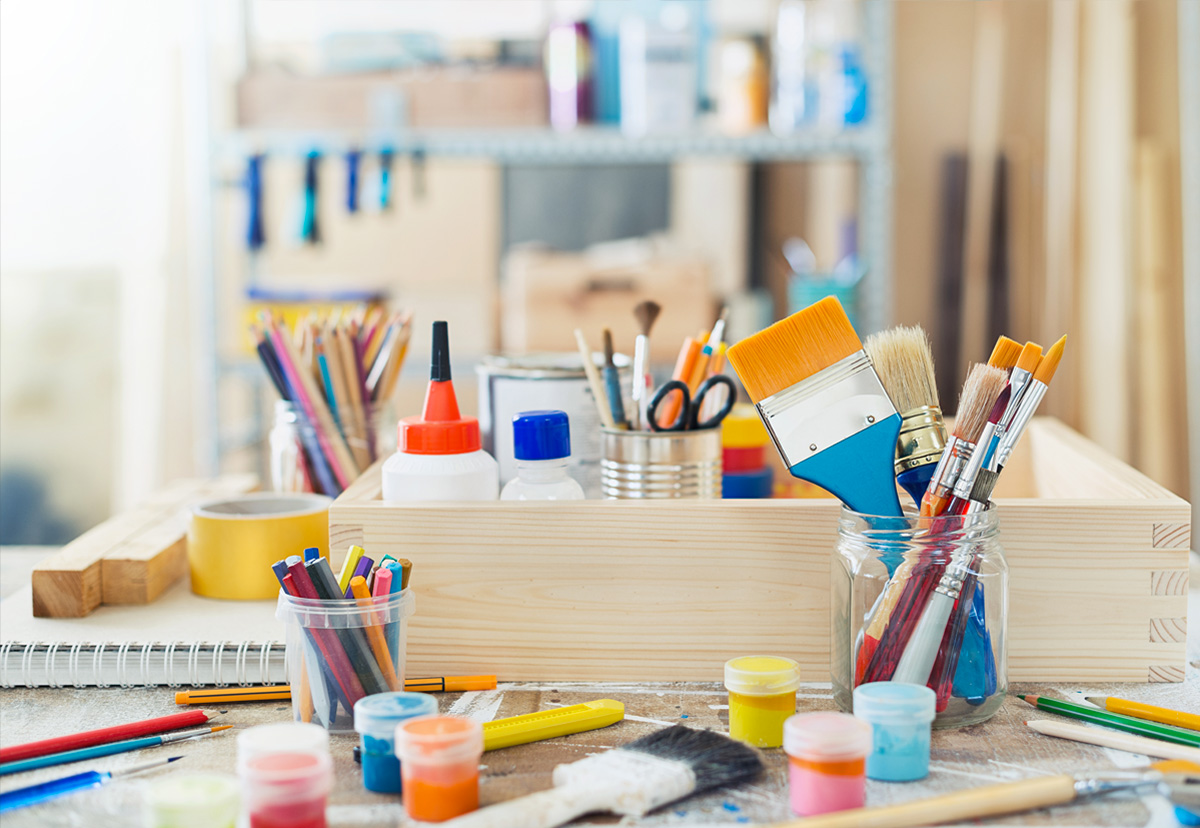 Do you feel that you're held back from painting because you don't have the space to do it?  
Do you dream of having your own art studio space, which you'd paint in every day? 
Does seeing beautiful photos of other artists' studios on Instagram or Facebook leave you feeling defeated?
If the answer to any of these is 'yes', let me try and help you do a little re-framing. 
Unless you are currently sofa/couch-surfing or experiencing some other housing crisis (in which case, my heart goes out to you), it's likely that your home does physically have some space you could paint in. Your mind has probably been trying to talk you out of it because it's going to require a bit more effort to get those paints set up.
That's easy for me to say though, right?
Well I'm not actually sat here writing this from my big fancy art studio where I can paint all day long. In fact, I'm slightly embarrassed to say that despite being pro for over 10 years, I've NEVER had one. I did have a dedicated room in my last house, but I also had to run a business from there and store a load of paintings etc.
And since moving to a new house, I have to make do with a corner of a bedroom whilst I wait and plan for a garden studio.
Here's the little desk I'm working at right now: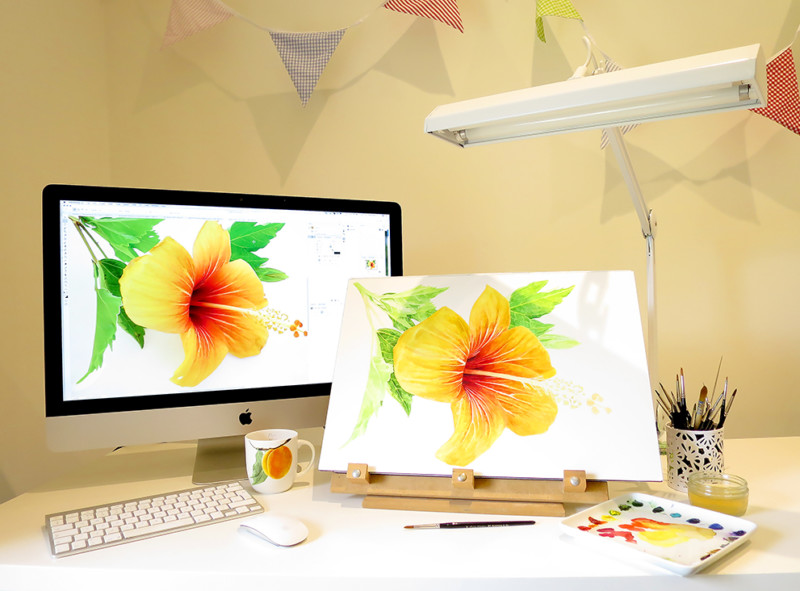 And here are a couple more photos showing you previous spaces I've painted out of!: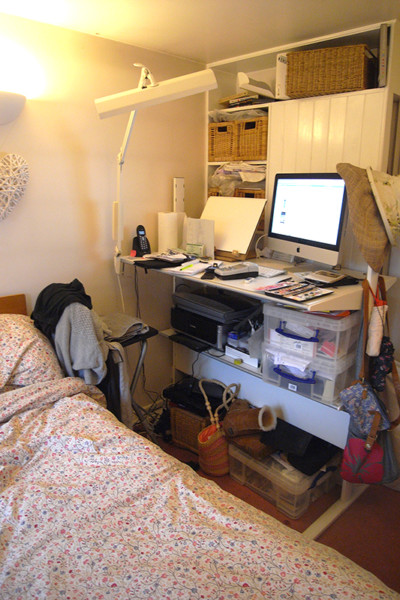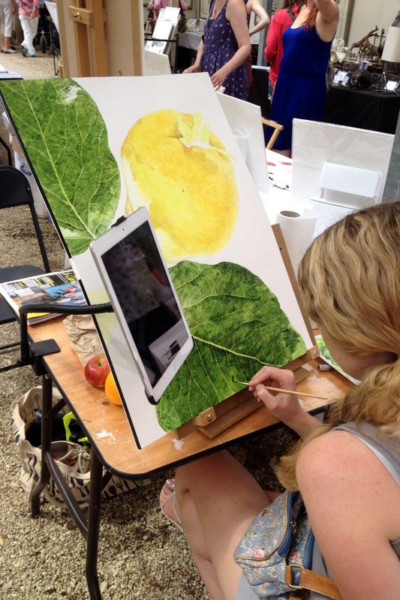 A studio would be nice. Or would it?
A beautiful, well lit, big art studio should make going and painting easier. 
But then if you had a gorgeous studio maybe other barriers would get in the way like:
"I don't have time to paint" (I am living that one too at the moment with 2 very young children!). 
Or worse, "Now I've built that art studio I feel like I OUGHT to use it and that's really putting me off!" Haha. I'm willing to bet that's happened to someone!
My point is that the mind has an uncanny way of putting up resistance to us doing things that would actually benefit us (like art or exercise).  
So it's important to remember that not having enough space might not be as valid a reason not to get your brushes out as you thought.
If you get creative, you might be lucky enough to find a little 'nook' you can set up as a permanent spot. Is there potential in the corner of a bedroom, or under the stairs?  
A little space is STILL great but it needs a little thinking through.
My top 3 painting tips for when space is at a real premium:
1) Work smaller
It sounds obvious, but you might need to shelve your plans to work on 6 x 4 foot canvases and accept that you will have to work on smaller studies for a while. It's better than nothing, will keep you improving, and you really don't need much space at all.  To help transition to working smaller, try working on some larger-than-life studies so your paintings can still have impact. And remember, a little table top easel can help you to work bigger.  With the one in my little nook, I can still work on watercolour pads up to around 24" x 18" without issue (see the photo above!).
2) Work with watercolour
When I was at school I mostly used oils and, after I left school, I hardly painted at all. The effort involved in getting the oil paints out, the pressure to then use them all up before they dried. The mess involved and the smell of the white spirit I used to thin the paint and clean my brushes all added up to one helluva barrier to painting! None of those issues is a factor with watercolours though and you can find out lots more about their convenience here.
3) Work from photos
With space at a premium, you're unlikely to be able to set up a subject to paint from in just the right spot to paint. Plus your lighting is unlikely to be ideal for this. Which is why working from photos makes perfect practical sense. View them on an iPad and you can zoom in on them as well as store thousands!  For more on this check out this post.
If a permanent art nook is just impossible, it's likely you can use the dining table or a bit of kitchen worktop with the right chair. Then it's just a case of tackling head-on the added hassle of having to pack away each time you paint. Here are my tips:
Keeping up momentum when you have to pack away every time
1) Set up a 'studio in a bag' 
At the most basic you literally only need a few items to get going. Of course you'll need your paints, which can come in a very compact travel tin. Add your brushes, a sketchbook or pad and something to mix your paints on, and you're ready. You'll probably find you add handy little bits and pieces to this as you go along. You can neatly pack your art studio into a little bag and hang it on a coat hook. The beauty of this is that you can take it anywhere.
2) Work in a sketchbook 
Hard-cover sketchbooks can take a bit of a battering if you need to move them around a lot. They are highly portable and you can rest on them without the need for an easel if you have to. Check out my advice on choosing a suitable sketchbook for working in watercolour (they're not as easy to find as you may expect).
3) Out of sight, out of mind?
The best thing about having a dedicated space for painting is that you can leave everything set up.  The real benefit is that your work invites you back to it later. "Take a seat", your work calls out, "pick up a brush. Just do a little bit whilst you have a few minutes to spare".
Without a doubt, the biggest drawback to packing away is that your art work goes out of sight and out of mind. This can hugely affect your momentum.
If this applies to you, keep your work in your sight and in your mind by taking a photograph of it at the end of your session. Then, set it as the wallpaper on your phone. This will help to keep it in your mind and prompt you to come back to it.
You'll likely also need to muster the extra discipline to schedule time in your diary to paint, like you would with any other appointment. 
So many creative people are in the same situation 
I asked the community from my online school if any of them have to manage with working from small spaces. Some of them have been kind enough to share pictures and descriptions of their spaces for you to see. Hopefully you'll get inspired by these REAL spaces that are REALLY working.
In the real world, most of us do not have Instagram-worthy studio spaces. Many artists work from makeshift set-ups and some of us do not have any space at all. Check these out:
Some dedicated art nooks: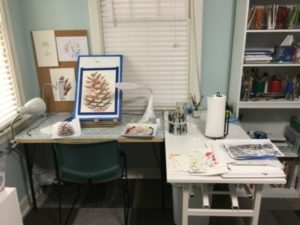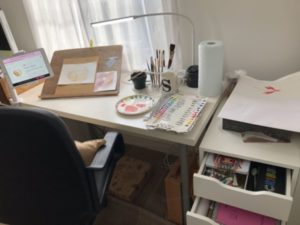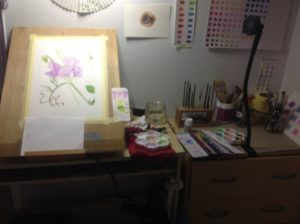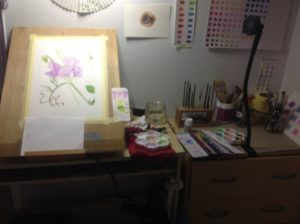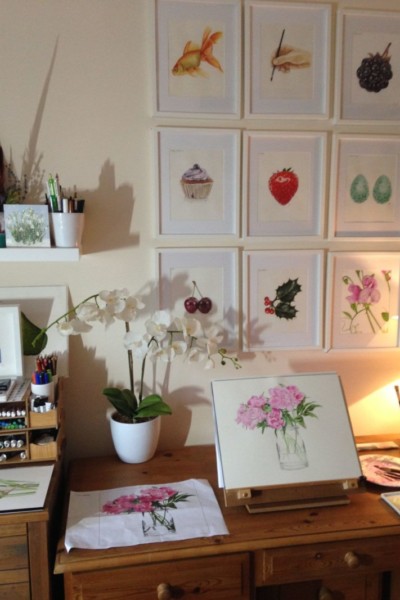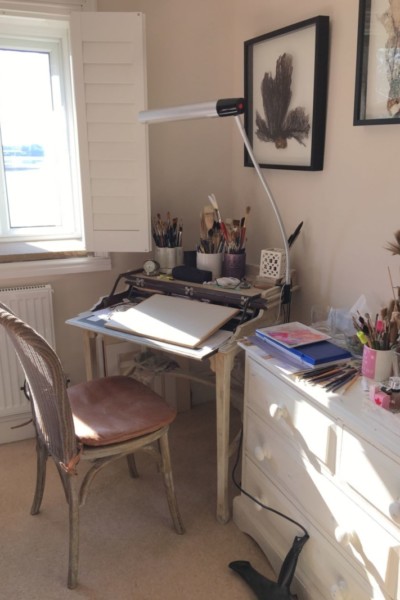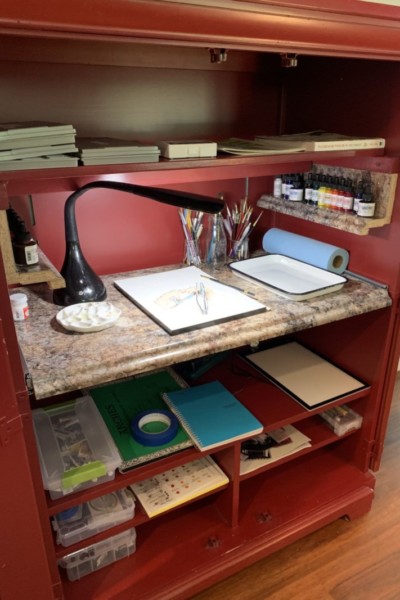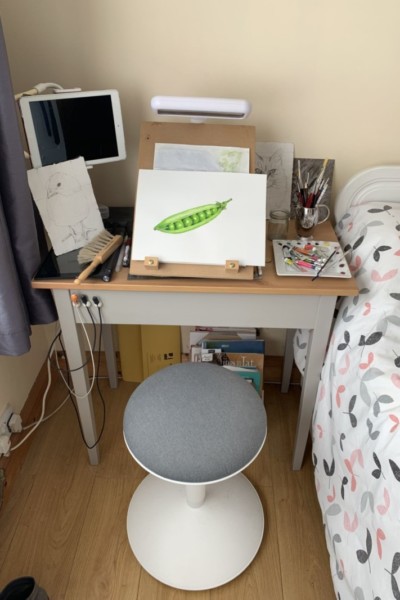 Some pack away art studios: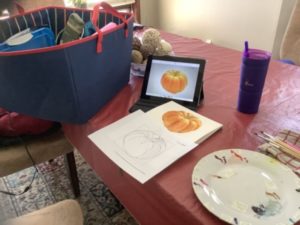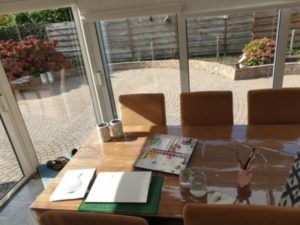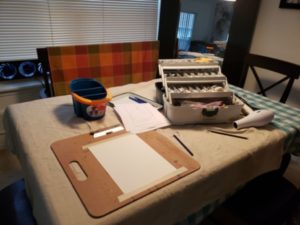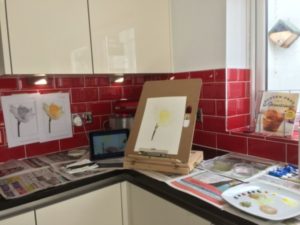 Some more simple set ups: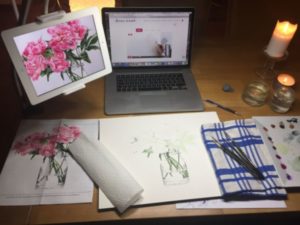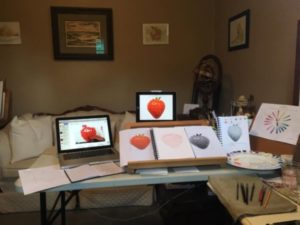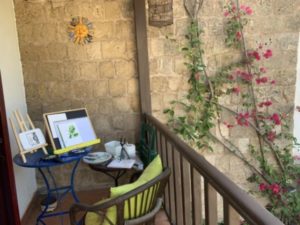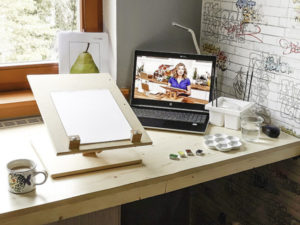 Over to you…
To find a place in your life for your creative passion, you must first give it a place, however small, in your home.
You are a creative person, so get creative with your space too!
Have you struggled with this issue? Is a lack of suitable studio space holding you back from being creative, or have you found a way around it? I'd love to hear your story, so please leave a comment and even a photo of your space below.

Subscribe to blog updates
The information you provide here will be used only to deliver the email course, along with other relevant updates from me. You can unsubscribe anytime. Click here for our privacy policy.